Ameera joins Paralympic hero Jonathan at Sports Relief launch
Date published: 20 March 2018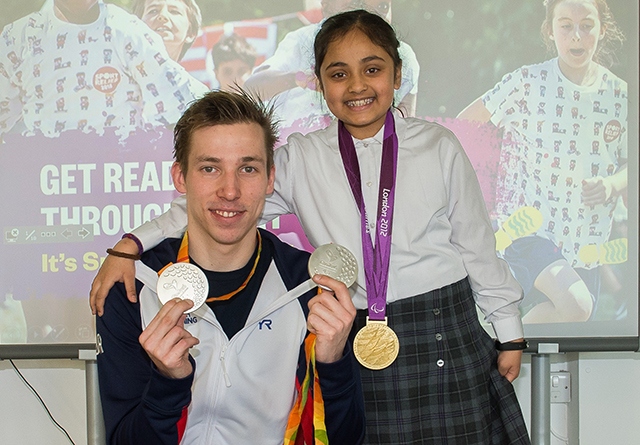 Paralympic swimmer and gold medallist, Jonathan Fox, with Oldham's Ameera Hussain
Paralympic swimmer and gold medallist, Jonathan Fox, was on dry land yesterday (Monday) when he visited Manchester High School for Girls' Preparatory Department to launch the school's Sports Relief celebrations.
And nine year-old pupil Ameera Hussain, from Lees, was among the pupils who got to try on Fox's prized gold medal from the London Paralympics in 2012.
A backstroke specialist, Fox was born with cerebral palsy but has never let his disability be a barrier to success.
Following his 2012 victory he was out with a shoulder injury for three years before making a triumphant return to the circuit in 2016 to claim silver medals at the Rio games and the IPC Swimming European Championships.
Of his visit to Manchester High's Preparatory Department, he said: "I train just down the road from the school at the Manchester Aquatics Centre so it's been brilliant to meet some of my closest supporters.
"I really hope I've inspired the girls with tales of my journey to gold medal success.
"That said, and it may sound cheesy, but I really do believe in the age-old adage that, 'it's the taking part that counts'.
"It's crucial we get this message across to children so they feel confident to just getting their kit on and get involved.
"You don't have to win a gold medal to feel both the physical and mental health benefits that sport provides."
Manchester High's Preparatory Department will be fundraising for Sports Relief on Friday (March 23) when teachers and girls will be donning their sports kit for a £1 donation to the cause.
Weather permitting, everyone will also be participating in a Sport Relief mile around the school's grounds.
Ameera said: "It was brilliant meeting Jonathan today and getting to wear his gold medal.
"His visit has really made me think about what I want to achieve in my PE lessons and I'm going to start by completing the Sport Relief mile in a great time with a big smile on my face."