Union boss visits North Chadderton
Date published: 29 March 2018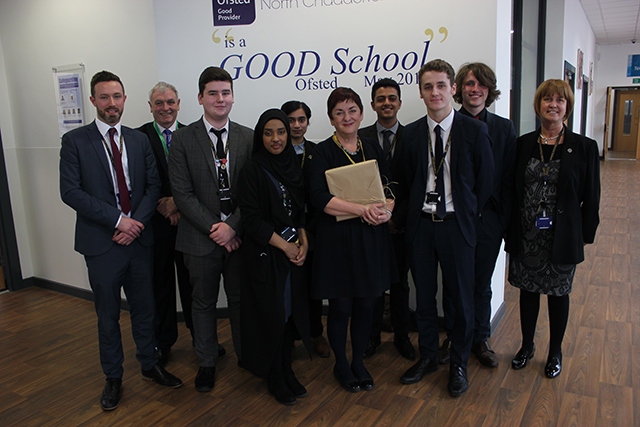 Dr Mary Bousted with a group of North Chadderton school students
Dr Mary Bousted - Joint General Secretary of the National Education Union - visited North Chadderton School.
She recently became the joint leader of the UK's largest teachers' union, with memberships totalling over 450,000 teachers, lecturers and other staff in education, therefore her prominence in education is evident.
Dr Bousted was recently being voted one of the top 10 most influential people in UK education by TES.
As a former teacher and Head of English, Dr Bousted was keen to share her knowledge and expertise in the education field with key stakeholders of the school, with a particular focus on Sixth Form.
The visit consisted of a lunch with the Sixth Form Senior Student Team followed by a tour of the school with Headteacher Joy Clark, Head of Sixth Form James Mannix, and Senior Students Fabiha Chowdhury and Callum Dixon.
She subsequently delivered an engaging and informative presentation to the Sixth Form student body, sharing important information regarding the role of trade unions in education including the current foci of improving women's rights in the classroom and mental health and well-being support.
Dr Bousted also imparted crucial advice on the student body, sharing tips on how students can stand out from the crowd and become better communicators as they approach their post-18 career pathways.
James Mannix, Head of Sixth Form, said: "It was a delight to welcome such an influential member of the education community to our school.
"Dr Bousted's commitment to fighting for the best education and support for all was evident throughout her visit and she shared some crucial advice and 'life lessons' with students on how to become more employable, well-rounded young adults."