Medals galore for Hopwood Hall
Date published: 04 April 2018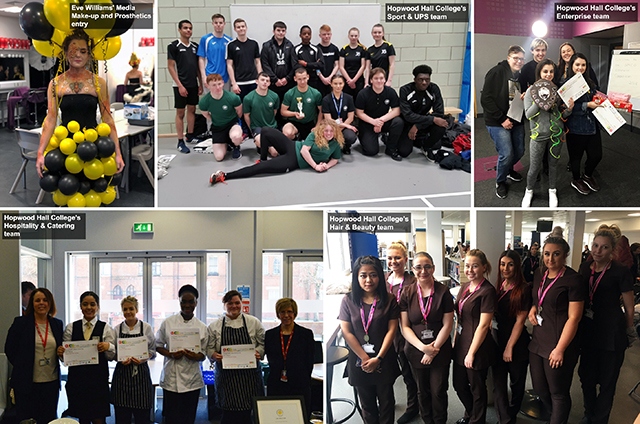 Hopwood Hall College secured multiple medals in the Greater Manchester Skills Competitions
Students from Hopwood Hall College secured multiple medals in the Greater Manchester Skills Competitions after beating their peers from rival colleges in numerous categories.
The annual GM Skills competition saw Hopwood Hall College, Trafford College, Bolton College, Bury College, Salford College, Oldham College, Tameside College, Stockport College, The Manchester College and Wigan and Leigh College compete against each other to decide the best of the best of Greater Manchester's Further Education Colleges.
In total, the Rochdale and Middleton-based College competed in 10 different course area competitions, winning 10 gold medals, four silver and one bronze:
Gold – Individual Level 2 Site Carpentry
Gold – Overall Business, Travel & Tourism
Gold – Individual Level 2 Travel and Tourism
Gold – Overall Enterprise
Gold – Individual Level 2 Enterprise
Bronze – Overall Hair & Beauty
Gold – Individual Level 2 Blow Dry Long Hair
Silver – Individual Level 3 Media Make-up and Prosthetics
Silver – Individual Entry Level Media Make-up
Gold – Overall Childcare
Silver – Overall Hospitality & Catering
Gold – Individual Level 3 Food Prep & Cook
Gold – Mens 100m Sprint
Gold – Public Services team event
Silver – Overall Sport & UPS
Students of each academic level were given specific challenges in different subjects, ranging from a "We Love Manchester" themed Media Make-up category in the Hair & Beauty competition, to preparing and cooking a three course meal in the Hospitality and Catering competition.
Molly Coupe, winner of Hospitality and Catering's Level 3 Food Prep and Cook category, described the pride her family had felt after her achievement:

She said: "I was really happy to win, but I have been even happier since then as I've had so much support from my family and friends.
"They have been all over Facebook sharing their excitement about it.

"The competition was really tough, I was surprised to actually win my category.
"The experience I've gained at Hopwood Hall's Riverside Restaurant definitely prepared me for it.
"I was just as proud of our team getting silver overall as I am about my individual win."
Similarly, Eve Williams, who came second in Hair and Beauty's Level 3 Media Make-up and Prosthetics category, was overjoyed with the efforts of her team:

"I think we did so well as a team, everybody's work was of a very high standard and we really seemed to wow some of the judges." she said.
"Our tutors did a great job of preparing us for the event and giving us some self-belief, they deserve a lot of credit for the results.
"The whole competition was a great experience and has given me a lot of confidence in my abilities and in my targets of starting a career in the Hair and Beauty industry."