Lib-Dems' woe at new Saddleworth School delays
Date published: 27 April 2018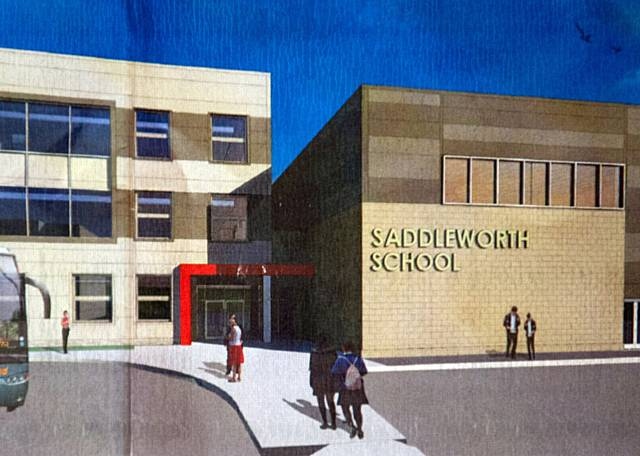 An artist's impression of the proposed new Saddleworth School from last year, 2017
An influential group of Saddleworth and Lees Liberal Democrat councillors and candidates have reacted with disappointment to the news of further delays to building a new Saddleworth School.
An Environment Agency report has now revealed an objection to the plans following a new flood risk assessment.
A joint Saddleworth and Lees Lib-Dem statement read: "(We) would like to express their huge disappointment at yet another delay to the building of Saddleworth School following the announcement of the Environment Agency's objection to the revised flood risk assessment despite failing to raise any objections on the previous application.
"The vast majority of people want a new Saddleworth school and we praise the work done by Saddleworth parents and children amongst many others who want the school built.
"The Liberal Democrats have always unanimously supported a new school wherever the Education Funding Agency saw was appropriate.
"Our priority has always been to ensure that we get a new secondary school in Saddleworth and have always worked constructively with the council and other partners to achieve this.
"Sadly a small group have been stalling this process for over six years and we now have a generation who have missed out on a new school.
"We do not want to see the worst case scenario as stated on the Greater Manchester Spatial Framework (GMSF) of the Diggle site occupied by a large number of houses funding being pulled away from the highways and us eventually having no secondary school in Saddleworth.
"We believe we need to be open and transparent to get the best outcome for our young people.
"We need to work together to show everyone how important a new school is. We need to get this sorted and get the job done."
Construction at the new school in Saddleworth was originally set to begin in Easter 2014 ­- with the new school set to open in autumn, 2015.
But this was derailed when opponents to the chosen site in Diggle won a high court battle which ruled that the plans to build the school in Diggle were unlawful.

Oldham Council and Saddleworth School have since worked with the Education Funding Agency (EFA) to manage the project for the Department for Education.