New Bridge/St Paul's triumph at Summer School Games
Date published: 10 July 2018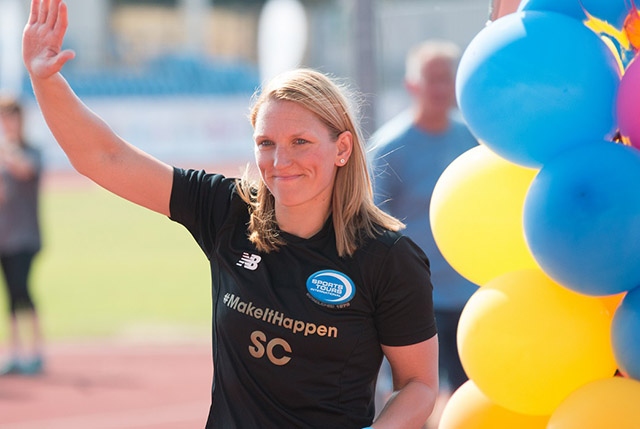 Female boxer Stacey Copeland was a special guest at the Summer School Games
Teams from New Bridge School and St Paul's Primary School both sealed Greater Manchester champion titles at the Summer School Games.
Over 2,000 school pupils from across Greater Manchester gathered at the Regional Athletics Arena on Friday (July 6) for the 2018 Greater Manchester's Summer School Games, where special guests included Wigan singer Laura White, female boxer Stacey Copeland and special Olympian Kiera Byland.
Once the action got under way, New Bridge School and St Paul's Primary triumphed in the Year 7/8 Inclusive Athletics and Year 5/6 High Five Netball respectively.
Waterhead Academy's 'A' and 'B' team then picked up silver and bronze in the BMX competition at the National Cycling Centre.
This year the Greater Manchester Summer School Games compromised of 21 competitions in 14 different sports across seven venues.
The event is funded by the National Lottery through Sport England and the Youth Sport Trust and delivered in Greater Manchester by GreaterSport on behalf of the Greater Manchester Local Organising Committee.
They are supported by competition deliverers and School Games organisers, and approximately 160 young volunteers.
Sara Tomkins, CEO at GreaterSport, said: "What a fantastic day of school sport competition.
"It was amazing to have over 2,000 young people take part in what was definitely the hottest Greater Manchester School Games to date.
"The passion, determination and teamwork shown by the athletes is what the School Games is all about and I hope they continue to strive to be the best they can be in their sport."
There were competitions taking place in Athletics, Baseball/Softball, BMX Dodgeball, Football, Goalball, Golf, Netball, New Age Kurling, Rounders, Rugby Union and Tennis, as well as a participation festival which gave young people an opportunity to take part in a number of sports.
The School Games Organisers across Greater Manchester have organised and delivered local competitions with 241,253 individuals having taken part in this academic year so far.