Caring for the carers
Reporter: Robbie MacDonald
Date published: 21 November 2016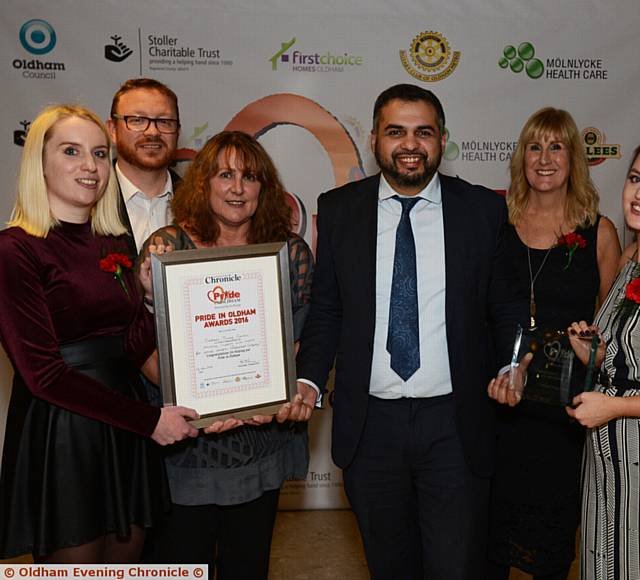 OLDHAM Young Carers with presenter Majid Hussain (centre)
A TEAM providing much-needed support and social activities for young carers received the Professional Award.

Oldham Young Carers, based at Medtia Place in Union Street, currently have more than 350 young carers on their books.

The team, made up of project manager Martin Sutton, volunteer co-ordinator Eric Osazee, and young carer support workers Clare Boyle and Katy Peet, currently helps around 56 young people a week, ensuring they have the support to cope with their additional responsibilities as well getting the chance to relax and make new friends.

After receiving the award from Majid Hussain, chairman of Oldham Clinical Commissioning Group, Clare said: "We're all overwhelmed. We didn't realise we were finalists until recently. We are delighted for all the young people in our group."

Martin added: "We need to thank Positive Steps, donors and volunteers, such as Susan Beesley who is here tonight."

The group were nominated by Gillian Fulcher (46), from Royton. Gillian has dyspraxia, which affects her coordination and learning, and is cared for by her 16-year-old daughter, Lucy Lingard, who is part of the group.

PC Lee Cullen and Mick Bond were runners-up.

PC Cullen set up Failsworth Youth Zone , which is now linked to Mahdlo Youth Zone, and has helped cut ant-social behaviour.

He said: "To be recognised by the community is fantastic. However it's not just about individuals. I need to thank my team including Penny Kenworthy and Failsworth Town Hall staff."

Mick Bond (62) spends hours maintaining Stoneleigh Park and said: "I'm delighted to be a finalist. I just try to do my best for the people living around the park. I'm very honoured with this."