The Maserati Levante is a handsome beast with coupe lines that give a flowing silhouette
Date published: 17 July 2019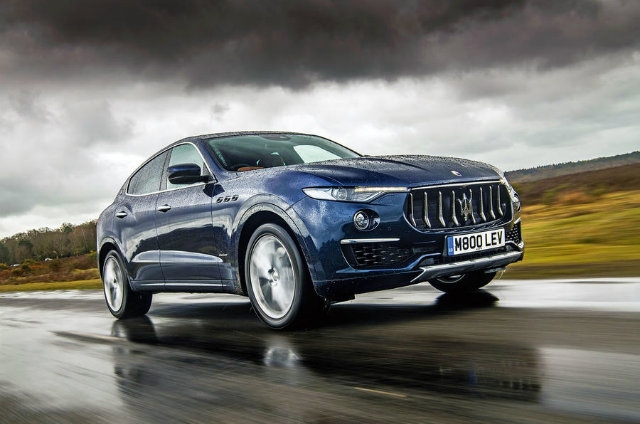 Maserati Levante Gran Lusso
After all, we're talking about a prestigious Italian motor company with close links to Ferrari and an envious racing pedigree dating back almost a hundred years.
So, when Maserati tell you the stylish Levante SUV has had a few tweaks with some updates to both tech and styling then it would be rude not to take a closer look.
The Levante is a handsome beast with coupe lines that give the Levante a flowing silhouette. The muscular rear haunches highlight the car's racing heritage while the frameless doors add to the cars exclusive feel.
In the UK we get three 3.0-litre, V6 engines to choose from. The petrol unit produces 350 bhp as standard, or 430 bhp on 'S' models. There is also a diesel unit which produces 275 bhp and still manages to sound very sweet indeed while maybe appealing more to business users.
Trim levels are simple with 'Levante', GranLusso and GranSport to choose from with the latter two simply giving buyers the choice between a more luxurious or a sportier feeling Levante. There is no price difference between them. All Levante models get AWD and an 8-speed ZF Automatic gearbox.
Prices start with the Levante Diesel at £58,370 with the petrol version costing £61,490. The more powerful 'S' Levante will costs £72,50 but you do get a 0-60mph time of just 5.2 seconds and a top speed of 164mph. Not bad for an SUV weighing just over 2 tonnes.
I've been driving the Levante GranLusso in 350bhp guise and must say that it feels very special indeed. Inside you'll find the wow-factor in both quality of materials and pure style.
GranLusso models also get the Ermenegildo Zegna silk interior incorporated into leather for an even more exclusive touch and alongside the fine-grain red leather of my car it looked superb.
The Harman Kardon sound system sounds terrific and I loved the feel of the soft-close doors too. The signature analogue clock sits above the dash looking very classy while the updated 8.4in infotainment screen includes Apple CarPlay and Andoid Auto as well as Sat Nav, DAB radio and Bluetooth connectivity.
But, as with any Maserati, it's out on the road where the car comes into its own. The sound of the Ferrari-built V6, twin-turbo engine is superb and once on the move the newly-designed auto shifter lets you feel like a racing driver - if you choose manual mode
I was lucky enough to also take the Levante around a few laps of the twisty Hill Route at the Millbrook Proving Grounds and even at silly speeds the Levante felt planted and superbly weighted.
Body roll is minimal with the suspension set to 'sport' where throttle response is also improved and the Levante also becomes more vociferous too.
Shift everything back to Normal and the Levante is a superb motorway cruiser with sound insulation being very good with only slight intrusion from those large 225-profile 18in tyres. At cruising speeds you may miss the sound of that V6 though.
Do I recommend the Maserati Levante as your next premium-brand SUV? Well, as I said earlier, there is a lot of competition out there – but they really should have had you at "Maserati" . . .
RATING: ****
AT A GLANCE:
Maserati Levante GranLusso
OTR Price: £69,425
Engine: 3.0 litre V6 twin-turbo petrol
Power: 275 bhp
Transmission: 8-speed Automatic
0-62mph: 6.0 secs
Top Speed: 156 mph
Combined Economy: 21.6 mpg
C02: 268 g/km