Matt nets Pipeline Industries Guild gong
Date published: 06 February 2018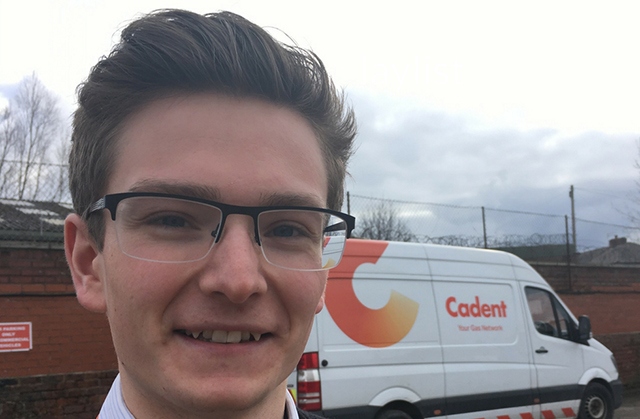 Matt Goode won the Pipeline Industries Guild award
Matt Goode's impressive work in managing a project to 'hold back' the River Mersey has won an industry award.

The 23-year-old employee of Hollinwood-based gas network Cadent is overseeing a job to shift the flow of the famous river by about 40 metres.

Over many years, the fast-flowing water has eroded land as it navigates a bend south of Didsbury and north of Cheadle, near Manchester.

It's now getting close to an underground high-pressure gas pipe nearby, so Cadent plans to take steps to move the river back to where it should be.

"This is nature doing what nature does," explained Goode, who is originally from Solihull, West Midlands.

"Over the 50 years our pipe has been there, the river has gradually moved, as it erodes the land to one side.

"This river bank remediation project will see us move it back to where it once was, away from our pipe."

Cadent constantly surveys its complex network of 131,000km of gas pipes, on land and with visual inspections from helicopters, to ensure everything is safe.

This identified a longer-term issue caused by this erosion and work started immediately on a solution.

Goode is project manager, overseeing the work of civil engineering contractor specialists Cain Bio-Engineering and Northern Divers.

The work is still in its design phase and involves considerable consultation.

The outline plan is to excavate back the original channel of the Mersey, and then construct a dam that would force the river back along its former path.

Goode, who is based at Cadent's centre in Mersey Road North, is liaising with a range of stakeholders – from local landowners and Manchester and Stockport councils, to the Environment Agency and National Grid.

"There's lots to consider in a job like this – for example, there's salmon in this water and nesting birds in the location, and there are also pylons carrying 400kw of electricity – so project managing means taking all of this into account," he said.

Now the Liverpool University graduate's work has now been recognised by the Pipeline Industries Guild, winning the Midlands branch heat of the Sir John Parker Presentation Competition, which is for young professionals in the pipelines sector.

He progresses to a national final, to be held in London in May.

"This is really recognition for Cadent as a whole," said Goode, who joined the gas network on its graduate training scheme in 2015.

He graduated from that scheme last year and now works in Cadent's 'Operate and Maintain' team.

Cadent is the UK's biggest gas network, keeping energy flowing to 11 million homes across North West England, the Midlands, Eastern England and parts of London.