'Atmosphere' festival set to rock Mossley
Date published: 02 February 2018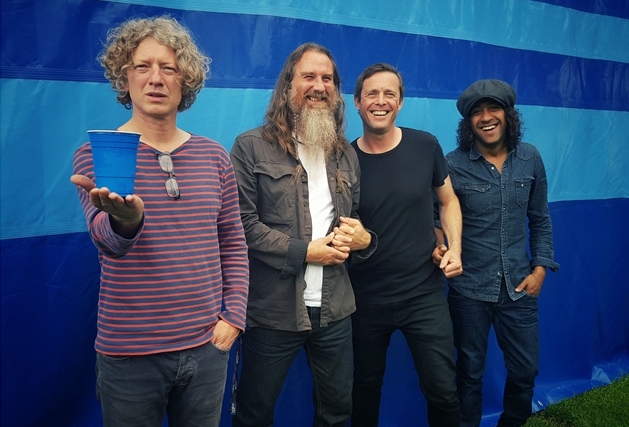 Cast are one of the big names to feature at the 'Atmosphere' festival at Mossley FC
Promoters Dave and Harry Hulmes are promising a live music event to rival any other in the north when the 'Atmosphere' festival hits Mossley FC's Seel Park on Saturday, May 26.

The locally-based Ginger Pigeon Promotions chiefs dreamt up the festival idea last year having organised a number of hugely successful, regular live music events at the Uppermill Civic Hall.

Featuring at the Civic Hall have been the likes of Dodgy, Republica and a clutch of top-drawer tribute acts, but Ginger Pigeon have really stepped up their game by organising 'Atmosphere', an all-day music extravaganza which is already selling tickets at a fast pace.

Headlining 'Atmosphere' are two terrific and massively popular chart bands from the last couple of decades – Cast and Scouting for Girls.

Emerging from the Britpop movement of the mid-1990s, Liverpool-based Cast signed to Polydor Records and their debut album All Change (1995) became the highest selling debut album for the label.

Led by the uber-talented John Power, further commercial success continued with Cast's albums Mother Nature Calls (1997) and Magic Hour (1999).

The band split, then re-formed in November 2010 and released their fifth album Troubled Times in November 2011.

Cast's sixth album Kicking Up the Dust, which was released on 21 April 2017.

London-based, and formed in 2005, Scouting for Girls signed to Epic Records in 2007. They released their self-titled debut album that September and it reached #1 on the UK albums chart in 2008.

To date it has sold over 1,000,000 copies in the UK.

A second album 'Everybody Wants to Be on TV' was released in April 2010 and peaked at #2 on the charts.

This was preceded by the single "This Ain't a Love Song", which went to #1 on the UK singles chart for two weeks.

To date, Scouting for Girls have sold over 2,000,000 records and have been nominated for four Brit Awards and one Ivor Novello Award.

Also on the stellar 'Atmosphere' bill will be the aforementioned 90s faves Republica, Manchester heroes A Certain Ratio, Northern Uproar, as well as highly-rated up-and-coming outfits Corella, Time for Action, the Smashing Lads and ace Oasis cover band, Oaces.

The line-up will also be complemented by a terrific DJ line-up, which includes Bez (of Happy Mondays fame), Leeds legend Dave Beer (Back to Basics) and Revolution Radio's very own Dave Sweetmore.

Dave Hulmes said: "I've always wanted to put a festival on in Mossley. It's the next logical step for Ginger Pigeon as far as both Harry and I are concerned.

"Some things can become a bit monotonous, but as Ginger Pigeon is growing bigger, we wanted to do something bigger.

"You can't go much bigger than putting a festival on in your home town.

"It's going to be a Greater Manchester festival. Forgive the pun, but we didn't want to pigeon-hole ourselves. We always wanted to put on a festival for everyone, and that's reflected in the line-up.

"There's something for everyone at Atmosphere. We always wanted to open it up to a wide audience, and hopefully we've done that.

"We've got the Oaces tribute band on too. That was a no-brainer really. We were hoping to get the real Oasis on, but Noel was proving to be a bit of a pain!"

Don't miss this.

Tickets are now available via the link on the festival website: www.atmosfest.com.