Twisted Wheel are back in business
Date published: 06 February 2018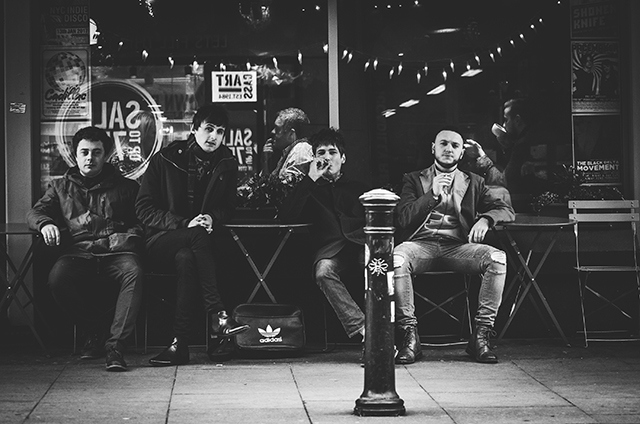 Photo: TrustAFoxPhotography
Twisted Wheel are ready to hit the road again (James Highton (left) has now been replaced by Adam Clarke) PIC courtesy of TrustAFoxPhotography
After years in the musical wilderness, enigmatic Saddleworth-based indie hero Jonny Brown is back with an exciting, all-new locally-based Twisted Wheel line-up.

Born in the backwaters of Oldham in 2007, the now legendary band, fronted by the precocious Brown, roared into the race of indie rock with such anthems as 'You Stole The Sun', 'She's a Weapon' and 'Lucy The Castle'.

Their irrepressible energy and ability to deliver inspired rock'n'roll gained Twisted Wheel support slots with Oasis, Kasabian, Paul Weller, The Courteeners, the Happy Mondays and Ian Brown to name but a few, as well as sell-outs on their first UK and European tours.

Twisted Wheel has indeed rocked and rolled, been smashed up, fallen off the wagon, gone solo, been kicked to the kerb – before finding its groove and getting back on it, full speed ahead.

The band – with Brown now joined by lead guitarist Richard Allsopp, bassist Harry Lavin and drummer James Highton – are ready to fly the Oldham flag high and proud once again.

"Everything seems to be flowing in the right direction again now," said Brown.

"I always knew in the back of my mind that this would happen again, but it was never forced really.

"We got a band together last year, we seemed to have a good little thing going, but the bass player left and we just stopped practising really.

"It fizzled out and I started doing a few acoustic gigs, but this Twisted Wheel line-up now feels like its much more solid.

"We're all working off the same page, and I just thought to start off again with a new name means we would have had to start at the bottom again.

"That could have been the greatest idea I guess, we'll never know now, but this wheel will keep rolling, it's twisted, so hopefully it all just fits into place now.

"It does seem that way at the moment.

"We're hitting the ground running because Twisted Wheel do have a cult following.

"They are die-hards a lot of them, they're all mint people and it would be doing them a dis-service not to get this band together."

Twisted Wheel are currently in the rehearsal room preparing to record a handful of hard-edged new tracks, while an extensive UK-wide 'Snakes and Ladders' tour has also been booked, starting in Whitehaven on April 20 and ending some 20-odd gigs later in Blackburn on June 30.

Lots of shows have already sold out, including the one at Manchester's Band on the Wall on June 1.

Brown beamed: "We are going to blow everyone out of the water.

"There are some good bands about, I'm now knocking anyone, but this is proper stuff we're producing and it's going to be respected.

"Guitar solos are back, and when we're going to be firing on all cylinders together, we'll be unstoppable.

"Twisted Wheel are going to be miles bigger than last time, definitely.
"In two years I think we could be touring the States, you never know."

For up-to-date ticket details, check out the links via the official Twisted Wheel Facebook page.