Oldham bands set to make their mark at March of the Mods charity all-dayer
Date published: 21 February 2018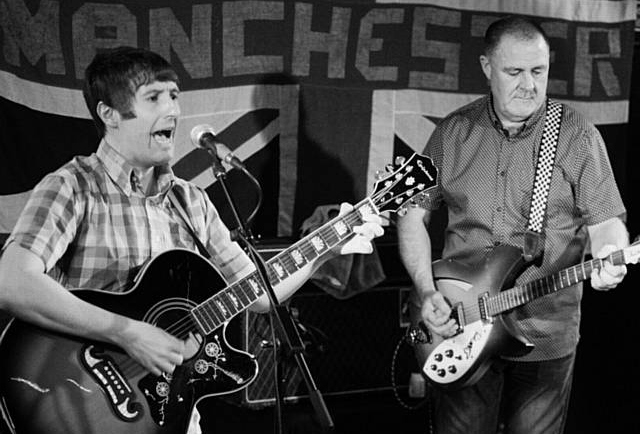 Carl Morris (left) and Tony Daly - fronting his band the Micradotts - will feature at the March of the Mods all-dayer Pic courtesy of Mickmacpix (Facebook)
The annual 'March of the Mods' charity music extravaganza returns on Sunday, March 4, and a number of Oldham bands and artistes have pledged their support by agreeing to feature on what is going to be a cracking bill.
The March of the Mods music days and weekends take place up and down the country, raising thousands of pounds for the Teenage Cancer Trust.
This year's Manchester leg of the event – which will again be staged in memory of the late former chief organiser Paul 'Mouse' Melia – takes place at the city's iconic Band on the Wall venue on Swan Street in the northern quarter.
Failsworth legends the Manchester Ska Foundation headline this year, while fellow Oldham outfits the Micradotts, Ok Broken and the Velocetas will knock out sets during the all-day event.
Also on the bill are mod favourites the Reaction, Small Weller, Standing in for Joe, Ambiere and Tameside-based solo artist Carl Morris.
Top mod/ska DJs 2 Tone Tony Kennedy, Lee Modtober and the Skafather wrap up a terrific musical line-up, while there will also be the annual scooter ride-in to open the event at lunchtime.
The doors are open from 12 mid-day until late.
Last year, the Manchester March of the Mods weekender raised in excess of £11,000 for the Teenage Cancer Trust.
Cora Metcalfe, on behalf of this year's organising committee, said: "This year we have such a brilliant line-up of bands and DJs.
"It's going to be an amazing day.
"All the musicians are playing for free to raise money for the Teenage Cancer Trust, so all the organising committee would like to offer a big thank-you to them for that."
Tickets – priced at just £10 – are now available via https://bandonthewall.org/events/
Alternatively, call 0161 834 1786 to book yours.