Quality really does count at Futureworks
Date published: 07 March 2018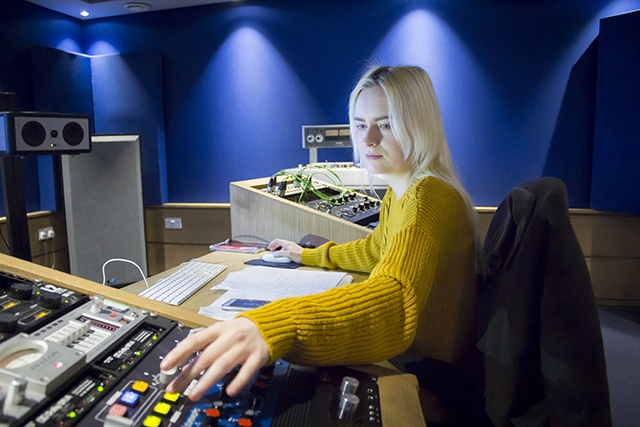 Lots of Oldham bands and musicians have used the state-of-the-art recording facilities at Futureworks
Lots of Oldham bands and musicians have used the state-of-the-art recording facilities at Manchester-based Futureworks in recent years, and now it has become the first UK college to achieve commended judgements across the board in a review by the UK's independent quality body.
The Quality Assurance Agency for Higher Education (QAA) awarded three commended judgements in its review of the college: for the quality and enhancement of student learning opportunities, and the information it provides to students.
Futureworks is the first college to achieve this since QAA started carrying out independent reviews of this kind in 2013.
The college offers nine undergraduate degree programmes in sound, film and TV, games, animation and visual effects, all in partnership with the University of Central Lancashire.
Recruitment to a new master's degree in Sound and Music Production will start this year.
Will Naylor, Director of Colleges and Alternative Providers at QAA, said: "Futureworks is a great example of a highly specialist college that understands its industry and what graduates need to succeed in a competitive market.
"Our reviewers found that the college has invested in state-of-the-art studios and production facilities built to industry standards.
"It has also recruited high quality staff with expertise in both teaching and practice."
One area of activity that reviewers singled out for praise was the college's 'Running Start' induction for students who felt that they could benefit from enrolling in a quieter, more relaxed atmosphere than the main induction events.
Attendees included students with autism, anxiety, physical disabilities and specific learning difficulties.
The support for disabled students, enabling them to fulfil their academic and professional potential, was recognised as good practice by QAA.
Chris Mayo, Managing Director at Futureworks, said: "We are delighted that QAA has recognised our ability to provide students with the skills needed to succeed in the creative industries.
"This is our one aim at Futureworks, to give students the best possible start to their future careers.
"Our Running Start approach has also attracted praise.
"We have a saying here: "Your first day at Futureworks is your first day in the industry", and our induction approach mirrors this."
More information about Futureworks Training Ltd is available at www.futureworks.ac.uk.