Youth Band gear up for an exhausting Good Friday!
Date published: 20 March 2018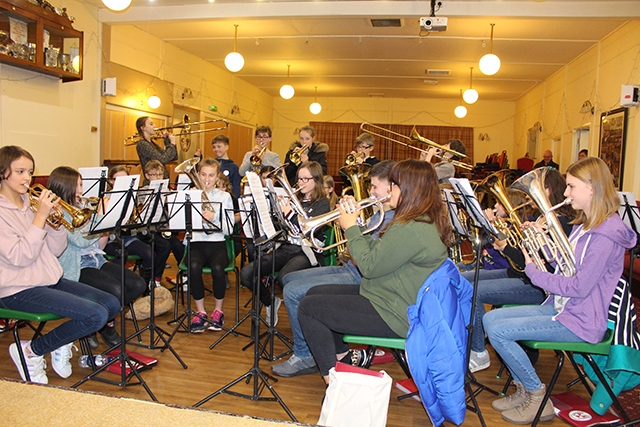 Players at the Dobcross Youth Band are preparing for a mammoth 24-hour rehearsal session
Players at the Dobcross Youth Band are gearing up for what promises to be a mammoth, hopefully record-breaking 24-hour rehearsal session on Good Friday.
They will start at their annual Easter concert at 12.30pm and then play on through the night in small groups of players before finishing with all the players in a mass brass session on Easter Saturday lunchtime.
As well as trying to get the band's name into the Guinness World Records, the youngsters are looking for sponsorship for their marathon practice, with any funds raised going to their band holiday in Belgium and France in August.
This will see them play at the Menin Gate Memorial to the Missing in Ypres.
Musical director Matt Hindle said: "This will be a real challenge for our youngsters – any brass players know that even a couple of hours' playing is hard work.
"They're really enthusiastic about trying to set a new world record though and I know they will do their level best to keep going all day and night.
"We're taking part in lots of concerts and contests this year, including Whit Friday, but it's important that players also have fun together, which is why we always make sure we have social events, trips out and holidays as well."
If you want to sponsor the band, they have a fundraising page at https://www.justgiving.com/crowdfunding/dobxyouthband
The Youth Band, which celebrates its 30th anniversary in 2018, has beginners and intermediate sections as well as the youth band and new players aged seven-18 are always welcome.
Anyone interested should contact the band at info@dobcrossyouthband.org.uk