Kiki Dee makes it a night to cherish in Shaw
Date published: 26 March 2018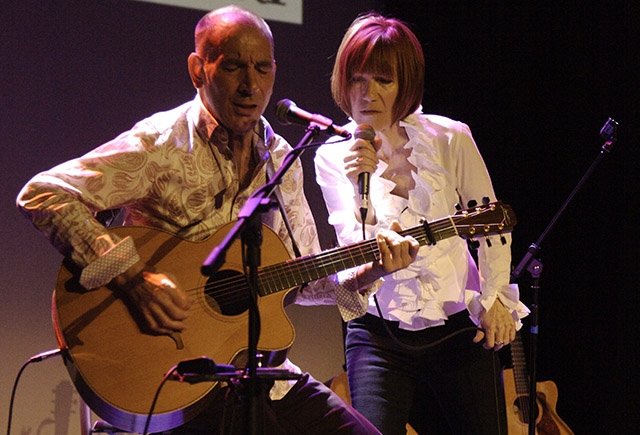 Kiki Dee and Carmelo Luggeri in full flow
Review by Pete Grubb
Kiki Dee and Carmelo Luggeri at Playhouse 2, Shaw
A full house at the Playhouse 2 afforded a warm welcome to Kiki Dee and Carmelo Luggeri on the second night of their 2018 UK tour.
The audience, comprising a mixture of Playhouse 2 regulars, long-standing Kiki Dee fans and others who had caught Kiki and Carmelo on their recent appearance on BBC4's 'Old Grey Whistle Test', were not disappointed.
They opened with a re-working of Kiki's number 1 duet with Elton John, 'Don't Go Breaking My Heart', and produced a set combining her stunning vocals with Carmelo's virtuoso guitar on a series of original songs like the haunting 'She's Smiling Now' taken from their latest album, 'A Place Where I Can Go', and 'Salty Water' from 'Where Rivers Meet'.
Kiki's 1970s hits 'Amoureuse' and 'I Got The Music In Me' were also very well received.
The original works were interspersed with some excellent interpretations of favourites from artists as diverse as Frank Sinatra, Kate Bush, Depeche Mode, Joni Mitchell, Leonard Cohen and the Everly Brothers, allowing the audience to join in with gusto.
Audience participation was not restricted to sing-alongs as both artists kept up a dialogue with them throughout the performance, and Kiki invited one lucky audience member to join her in a dance.
Later she took her tambourine into the audience to join them as they clapped along to Carmelo's guitar - overall it was a thoroughly enjoyable evening.
Music at Playhouse 2 stops for a month now, making way for two plays, 'Bully Boys' by Sandi Toksvig from April 14, followed by 'Service', a 'live sitcom' from the Edinburgh Festival on the 27th and 28th.
The music returns in May with Wigan based folk/rockers Merry Hell on the 4th and Shaw-based Tina Turner tribute, Kinisha, on the 5th.
Tickets are available online or from Interiors in Shaw (01706 840400).