Summer of Creativity: Pick up a guitar – and begin your journey!
Date published: 30 June 2021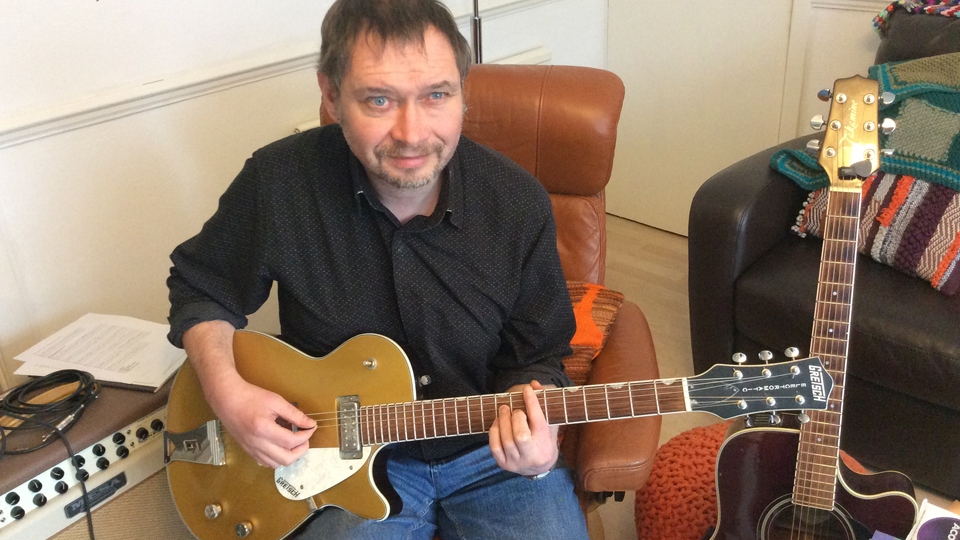 Karl Jones
We're celebrating Oldham's creativity with our 'Summer of Creativity' campaign with Spindles Town Square Shopping Centre and Oldham Council. We're looking to uncover your secret talents, or learn about your inspiration during lockdown.
Among the many challenges taken up over the last 18 months is learning a brand-new skill or brushing up on a long-lost talent. Lots of inspired people have picked up a new instrument for the first time – and many have chosen the guitar to get to grips with the basics, eager to become the next Eric Clapton or Jimi Hendrix.
Karl Jones, of Royton, began playing guitar at the age of 16, and now teaches others to play. He says his journey into teaching was accidental: "I bought my first guitar for £25 via Oldham Chronicle Advertising! I fell into teaching by accident. My friend said he was going to teach youngsters how to play guitar at the local music shop (Keys Music, Henshaw Street). The 2 teachers were going to Australia for a few years so there was a position to teach older students. I sat in to observe what was involved for a few lessons and liked the idea of working for myself so that's how it all started."
Whilst he was initially surprised at the range of clientele who were keen to pick up the guitar, he now said he's more used to the age and background of anyone who wants to learn.
"You get used to the diversity of people wanting lessons. I was surprised when my 72-year-old student first enquired, and after that, nothing surprises you. I had one lady who wanted to play guitar as it was on her 'bucket list'!
"I think there are many different reasons some people want to emulate their guitar heroes who themselves live an exotic lifestyle that's not just doing a 9-5 job. I don't think any other instrument has the excitement and coolness of the guitar."
Karl things one of the reasons that the guitar is popular to learn is that it's not a difficult instrument to get started with. It doesn't require natural skills, but just the determination to get better and better.
"Players such as Tony Iommi (Black Sabbath) and Django Rheiinhart (Jazz guitarist) both lost fingers and still went on to being outstanding influencers in their respective fields. In fact, there is a guy in Oldham who plays guitar with a hook as he has no right hand.
"I think to play a lot of pop/rock music or your favourite songs isn't too difficult. The most important thing is to pick it up every day even if it's just for 10 minutes.
"A lot of music from the 50s/60s consist of 3 chords so it doesn't take a lot of time to play a lot of songs. Even today's music doesn't consist of hundreds of chords. To play campfire guitar and a repertoire of singalong songs isn't too difficult at all. It's different for different people. Some learn quick some take more time."
Karl is keen to encourage people to pick up a guitar and learn how to play. "You never stop learning with guitar. Nobody knows everything and music is endless. The people I've met those who play an instrument tend to be more broadminded, more considered, more creative. I think playing an instrument broadens the mind.
"Another thing about playing the guitar your musical taste certainly expands. From being blinkered and only listening to certain types of music, as you get older you become more open to types of music you didn't like when you were say 16. Now I like a wider range of music from indie/alternative rock, grunge, punk, 60s psychedelia, rock n roll, Neil Young, folk rock, country rock, ambient, and guitar-based rock in general."
A decent starter acoustic or electric guitar says Karl, can be picked up for under £100. Aside from the guitar, you'll need an amplifier for an electric guitar, and plectrums for an acoustic.
Inspired? Karl provides virtual and in-person lessons in Royton. Call 0161 624 9809 to begin your journey.
---
Do you have a story for us? Want to tell us about something going on in and around Oldham? Let us know by emailing news@oldham-chronicle.co.uk , calling our Oldham-based newsroom on 0161 633 2121 , tweeting us @oldhamchronicle or messaging us through our Facebook page. All contact will be treated in confidence.