Gamble pays off as device connects with Raspberry Pi computer success
Reporter: Martyn Torr
Date published: 09 January 2015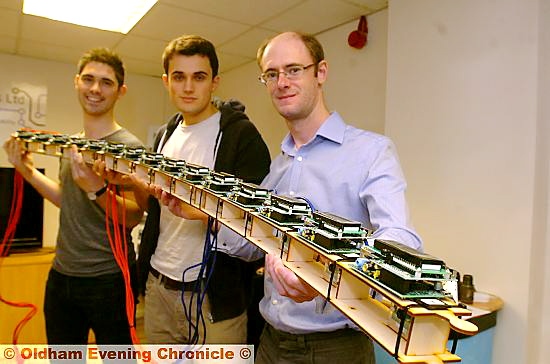 Andrew Robinson (right) and colleagues with a special effects rig.
AN Oldham man has invented a cost-effective addition to the popular Raspberry Pi mini computer.

PiFace Digital connects to the world-renowned Raspberry Pi, a low-cost, credit card-sized computer, allowing a myriad of additional features to be created by users.

PiFace makes it easy for anyone to connect sensors from what the inventor calls "the real world", which allow the Raspberry Pi to turn things on and off automatically.

"This is just one of its many features," said Dr Andrew Robinson (30), from Shaw, who has resigned his post as a research fellow at the University of Manchester to set up OpenLX SP Ltd.

Currently based in temporary premises in Shaw, the business has developed PiFace Digital, which has been featured on a number of television programmes, including the prestigious Christmas Lectures on BBC Four during the festive break.

A manufacturer in Royton is producing the equipment — which resembles a miniature circuit board and features a number of active portals to which any manner of devices can be attached.

These portals allow a huge range of features to be accessed via the Raspberry Pi and such has been the success of the venture Dr Robinson, who initially made 100 devices by hand before commissioning a further 1,000 via his local source, now has a contract with a major, worldwide distributor.

He is employing two graduate software engineers — Tom Preston and Tom Mcpherson-Pope — to enhance and develop more educational resources and products and is in advanced talks to move the business into more suitable premises.

There are now 12 products within his company portfolio but Dr Robinson remains a boffin at heart and has no idea if he is making any money. "I was certainly earning more when I was a university lecturer," he lamented.

But he remains relentlessly optimistic that the commercial side of his business will soon produce its own rewards.