'A divisive, backward move' say Labour campaigners
Reporter: Gillian Potts
Date published: 04 October 2016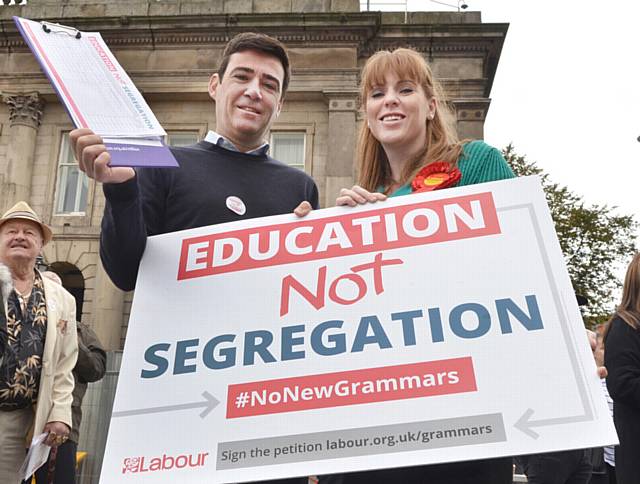 CAMPAIGN launch . . . Andy Burnham with Angela Rayner
FAILSWORTH MP and shadow education secretary Angela Rayner launched Labour's campaign against Tory plans to open new grammar schools, hailing Oldham's progressive attempts to improve school standards.

As the "Education Not Segregation" crusade swung into action on Labour's Educational National Campaign Action day on Saturday, Ms Rayner said selective schooling is "divisive" and "stigmatising".

However, Oldham Council education chiefs had the right idea on how to improve education in the borough, she added.

"There are many ways to improve standards in our schools but grammar schools certainly aren't the answer," said Ms Rayner, who was supported at the #NoNewGrammars event by Labour's Manchester mayoral candidate, Andy Burnham MP, in Ashton.

Detail

"Oldham Council recently commissioned "The Oldham Education and Skills Commission" report to look carefully and in detail about how to improve schools in the borough and that's the way we should be going.

"Our launch of this campaign is around opposing segregating children at such a young age.

"We know this is not the right way to go.

"New grammar schools are a backward move and just go to further fragment the system when we should be pulling together."

Mr Burnham, who stepped down as shadow home secretary last week, said he had very personal reasons for backing this campaign.

"My dad failed his 11-plus and he was written off because of it," said Mr Burnham.

"His parents were getting divorced at the time so this obviously had an effect on his ability to do the test. It's just not right to segregate kids."

Saddleworth and Oldham East MP Debbie Abrahams and Oldham West and Royton MP Jim McMahon were in Oldham town centre drumming up support for the day of action.