With your help, courageous Kai can one day walk tall
Reporter: Rosalyn Roden
Date published: 10 October 2016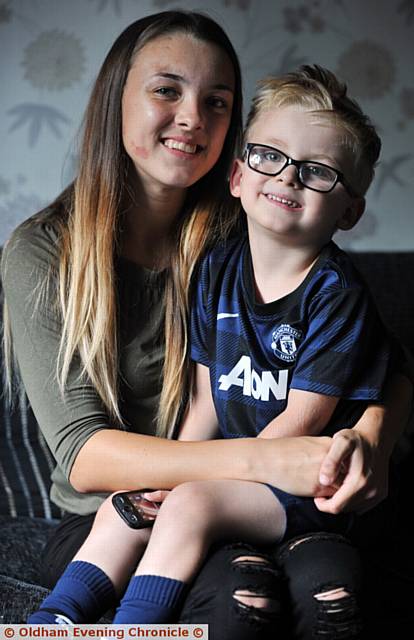 APPEAL . . . Courtnay and son Kai
A MUM is appealing for help to enable her four-year-old son with cerebral palsy to walk properly.

Courtnay Crowther (21) hopes to raise £15,000 for ongoing physiotherapy sessions, which little Kai Thomas O'Neil may need for life.

Kai was diagnosed with cerebral palsy spastic diplegia, marked by tense muscles and spasms, when he was two after having an MRI scan.

Although he underwent an operation in November, 2015, in a bid to improve his muscle stiffness, Kai requires ongoing treatment for progress to be made.

Courtnay, of Higginshaw Village, said: "At first I didn't think he was ever going to walk or lead a normal life.

"But he had physio and soon started progressing.

"He eventually began standing with the help of furniture and then took a couple of steps.

"He improved further after the operation and doesn't have to use a frame any more.

"At the moment he has physio once a week and they have really helped him but this will be ongoing for life.

"We are raising money to enable him to keep this up and hopefully increase the number of sessions."

Kai was kept in Leeds General Infirmary for five weeks and on the high dependency unit for three days following a selective dorsal rhizotomy (SDR) operation.

Before the operation he was unable to straighten his legs due to stiffness in his muscles though physiotherapy sessions have strengthened these, improved his balance and his ability to walk unaided.

The reception pupil at Beever Primary School will return to Leeds for his 12-month review in November.

Mum Courtnay said: "He is capable of most things but he has a lot of falls.

"He has an amazing character, he loves to laugh and he loves to play outside in the garden with his sister.

"But he gets frustrated because she is always five steps ahead.

"Kai can walk in a rocking motion but he does fall quite a lot which affects his confidence.

"He needs help with his core balance and we want him to lead the normal life that everybody else has."

Carer and mum-of-two Courtnay contacted Just4Children to ask for their support.

The registered charity released an appeal calling on generous residents to donate to Kai's cause.

A spokesman said: "Just4Children is delighted to be helping Kai in his fundraising campaign.

"Hopefully Kai will be soon receiving the therapy and treatment he so desperately needs.

"Without these physiotherapy sessions Kai would sadly be a five-year-old determined little boy still unable to walk."

The charity has also organised a fundraising event which will be held at Oldham St Anne's ARLFC, in Higginshaw Road, on Friday, November 25.

To donate visit www.just4children.org/children-helped-2016/kais-little-legs-walking-tall.