England call for our roller girls
Reporter: Karen Doherty
Date published: 12 October 2016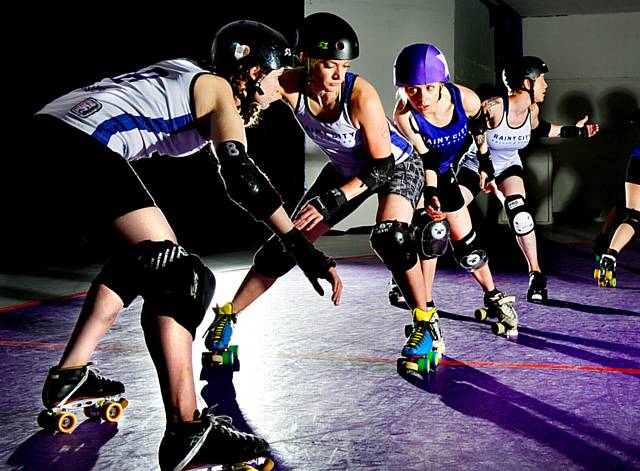 Photo: Shirlaine Forrest
THE Rainy City Roller Derby players in action
EIGHT skaters from Oldham's Rainy City Roller Derby have made the final cut for the 2017 England training squad.

Alex Valentine, Alex Wilde, Fay Roberts, Fayetal Blonde, Fisher, Menace, Missy Rascal and Philly beat strong competition at two stages of try-outs in Manchester and Birmingham to make the final list of 31 skaters.

Fay Roberts and Missy Rascal have previously made the national squad, but this is the largest amount of skaters who have made the cut from Rainy City.

The news follows Rainy City's recent success at the Women's Flat Track Derby Association International Playoffs in Colombia in September, where they beat their expected predictions and won two out of four games to finish the tournament in sixth place.

Rainy City skater Caroline Topham aka Menace said: "This year has been absolutely amazing for us as a team, and to have so many of our skaters selected for the national squad is such an achievement. We've worked so hard to up our game."

Excited

"It's also a massive personal achievement to have made Team England. This time four years ago I was only just learning to skate at Rainy City, and now I'm very excited to be training alongside some of the country's top roller derby players."

The England training squad will spend the next few months preparing for the third Roller Derby World Cup, which sees roller derby teams from around the world compete in a three-day tournament at the end of next year.

Roller derby has seen an explosion of popularity around the world with teams from Mexico, Japan, Finland and Australia all taking part in previous years. USA are the current champions.

Previous world cups have been held in Canada and the USA and the location for the 2017 tournament is yet to be announced.

Catch Rainy City in action at their upcoming games at The Thunderdome, King Street, on October 15 and 22. See www.rainycityrollerderby.com for details.