Hardial is king of the Sirs...
Reporter: Iram Ramzan
Date published: 25 October 2016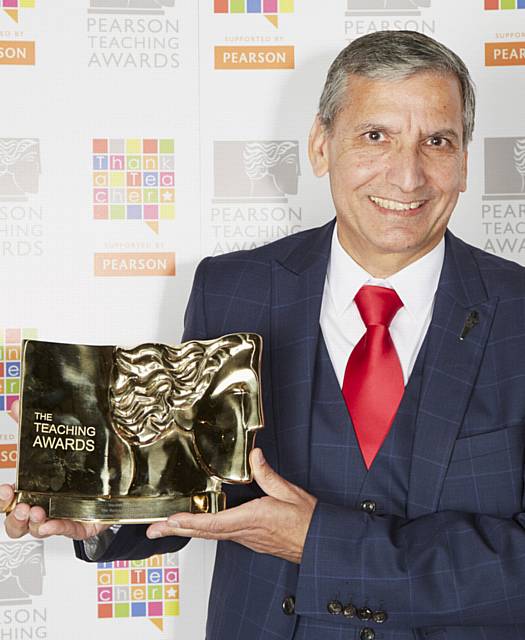 TOP MARKS . . . Hardial Hayer, from Radclyffe School, won Headteacher of the Year
AN OLDHAM headteacher picked up a top honour at an award ceremony celebrating the crème de la crème of the UK teaching profession.

Hardial Hayer, of The Radclyffe School, was one of just 10 teachers from across the country to win a prestigious Gold Plato Award, in front of an audience of hundreds at the Guildhall in London.

Mr Hayer was nominated for the Headteacher of the Year in a Secondary School at the Pearson Teaching Awards by pupils, parents and colleagues from the school in Hunt Lane, Chadderton.

He has been a headteacher for more than 20 years and has shown a total commitment to his pupils, staff and community.

Under his leadership, the school has introduced and developed a number of initiatives.

The Personal Learning Guide scheme utilises the skills of all staff to guide and mentor a small family of students.

Each and every student also takes part in an 'Experience Day' when each year group visits a venue that, for many of the students, would be beyond their means or realm of experience.

With cuts in local authority funding, Mr Hayer also made a commitment to funding a careers adviser post so that all students received independent advice and guidance

Wonderful

Mr Hayer said: "I was absolutely shocked.

"It was the first award of the night. It was wonderful news.

"It's an award for all the hard work work by staff and students. It's nice to be recognised on a national stage."

Jim Greenwood, who has been the chairman of governors for more than 30 years, also attended the awards on Sunday.

He said: "I think it's a well-deserved for Hardial and his team.

"Without all the other people in the school, the school wouldn't be able to function properly.

"It really shows all the good work Hardial and his team have done, to get use from where we were to an outstanding school.

"I think it's a fantastic achievement for Hardial and his team."

The ceremony will be hosted by comedian Hugh Dennis and will be broadcast on BBC2 on Sunday, October 30 at 6pm.