Councillors protest as Buckley stays defiant
Reporter: Ken Bennett
Date published: 26 October 2016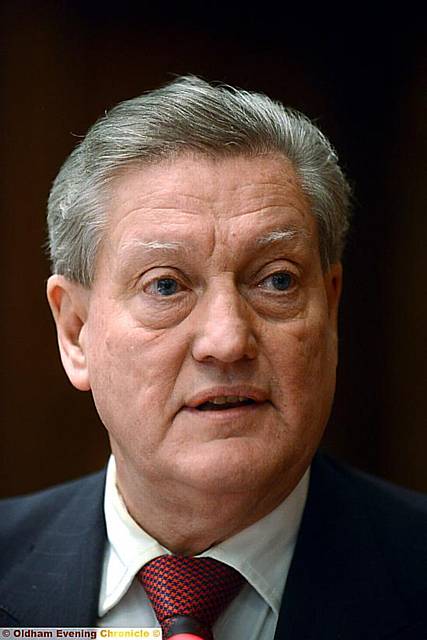 Councillor Mike Buckley
FOUR resolute parish councillors quit a key meeting after a shamed colleague attended.

Cllr Mike Buckley turned up at a full council meeting at Uppermill's civic hall.

Councillor Robert Knotts left the chamber while it's understood Nicola Kirkham, the parish council's deputy chairman, and councillors Jamie Curley and Steve Hewitt had already given their apologies.

It follows the outcry at Councillor Buckley's refusal to resign from Saddleworth Parish Council after being found guilty of downloading indecent images of naked boys on his computer.

In a joint statement the four councillors said: "In September, to the surprise of many, Councillor Buckley attended the monthly Parish Council meeting.

"His attendance prompted Councillor Steve Hewitt to walk out. Councillor Knotts and Councillor Curley would have followed but had important issues to address during the meeting.

"At our latest meeting, Councillor Buckley attended again.

"Councillor Knotts publicly advised his fellow councillors at the start of the meeting he could not sit at the same table as a convicted child sex offender who had not shown any remorse for his behaviour or even acknowledged he had done anything wrong.

"Councillor Knotts invited other councillors to show their disapproval of Councillor Buckley's attendance.

"Three others, Nicky Kirkham, Councillor Steve Hewitt and Councillor Jamie Curley, had already left the meeting in protest at Councillor Buckley's attendance.

"It is a sad state of affairs. At an earlier council meeting a substantial number of councillors voted to ask Councillor Buckley to resign. Sadly he has not."

The statement added: "It is noteworthy not one Liberal Democrat showed disapproval of Councillor Buckley's attendance despite public statements made in 2015 when Councillor Buckley was elected before he was convicted that anyone supporting him in any way should hang their heads in shame.

"At the time, even though it was known Buckley faced a trial the matter could not be aired as it would have been treated as a contempt of court."

The four councillors ­- two independents, one Conservative and one Labour ­- have written to Debbie Abrahams, MP for Oldham East and Saddleworth, asking for a progress report on a meeting held earlier this year with Marcus Jones, minister for local government, to discuss the issue.

Holly Wood, who has campaigned for Cllr Buckley's resignation since his trial, said: "I am pleased the councillors decided to not participate in the meeting.

"This hopefully sends a clear message to Cllr Buckley that his participation in Saddleworth Parish Council is still not accepted.

Impact

"I would hope he thinks long and hard about the impact he is having not only on the people of Saddleworth but the new chairman Cllr Pam Byrne, who I am sure does not want another year of Cllr Buckley bringing the name of the parish into disrepute."

Mrs Abrahams said: "This is clearly a difficult situation for Saddleworth Parish councillors and one that is hindering them in carrying out their work for the local community.

"At the meeting I convened between the parish councillors and local government minister, Marcus Jones, in May, the minister stated his intention to consult on changes to standards for councillors. To date, this hasn't been forthcoming so I have written to the minister again asking for an update as soon as possible."