Hole in wall stays as bank closes
Reporter: Ken Bennett
Date published: 21 November 2016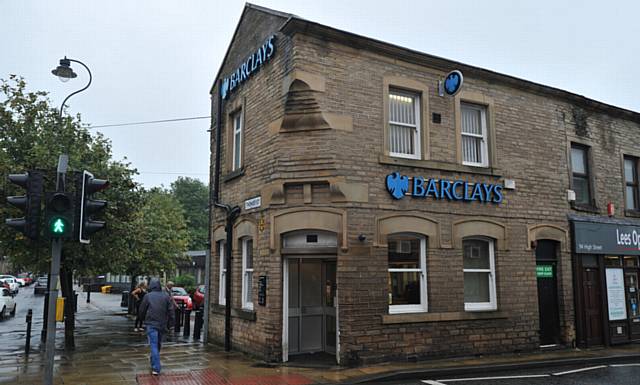 Barclays Bank in Lees is to close..
CAMPAIGNERS fighting to retain their village bank have won a concession from a banking giant.

Barclays, which plans to close its branch on Lees High Street this month, has agreed to leave an ATM at the site.

Locals and businesses were shocked when the branch closure was announced, leaving customers with a additional two-and-a-half-mile journey to use facilities in Oldham town centre.

Oldham and Saddleworth parish councillor Steve Hewitt and Debbie Abrahams, MP for Oldham East and Saddleworth, met bank officials in a bid to get them to charge their minds. Concerned villagers are worried the bank's closure will rip the heart out of the community.

Cllr Hewitt said: "Working with our MP and after a lot of meaningful negotiations at different levels in their organisation, Barclays Bank have relented.

"They will now leave the ATM - which was going to be removed when the bank closed - where it is, so people can still get access to their money.

"We will continue to talk and lobby shareholders and Barclay's senior management to try every option to save the bank.

"This is the biggest blow that could have hit our village and their timings could not have had a more devastating effect on customers, residents and businesses in Lees.

"With Christmas around the corner we hope they agree to our wishes and keep the bank open. However the hole in the wall is a start in the right direction."

And local businessman Robert Marshall, of Springhead, said: "This is a positive response from Barclay's to keep the ATM machine operative from the same location. It will assist all Barclays customers to access cash over the busy holiday period.

"I still maintain travelling into Oldham town centre is a difficult option and even more disruptive over the Christmas trading period when all the car parking spaces are at a premium. I still hope common sense will prevail and Barclays maintain this busy branch."

Mrs Abrahams said: "The Federation of Small Business has said small businesses, many of which deal in cash and cheques, face 'tough challenges' owing to the closure of bank branches."

A Barclays spokesman said: "The Lees branch will definitely close on Friday, November 25."