Pride and joy - Golden girl adds to the glitter
Reporter: Beatriz Ayala
Date published: 21 November 2016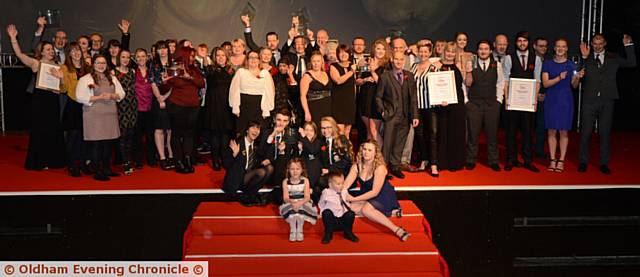 EVERYONE a winner . . . the Pride in Oldham Awards 2016, at Queen Elizabeth Hall
THE people who go the extra mile for Oldham took centre stage at the 15th Pride in Oldham Awards.

More than 250 finalists, guests and VIPs attended the gala evening at the Queen Elizabeth II Hall as 12 Pride in Oldham awards were presented to individuals and groups.
It was another emotional night packed with stories where people of all ages are recognised for their efforts to improve Oldham not only as a place to live and work but also enhance the lives of those who do so.
Surprises on the night included the Freeman Meacher Ambassador award going to a stunned Mick Harwood and a Special Recognition Award for Olympic gold medalist Nicola White.
THE glittering 15th annual Pride in Oldham awards turned golden on Friday when Oldham Olympian Nicola White received a surprise Special Recognition award to a standing ovation.

Nicola, who won gold in hockey at this year's Rio Olympic Games, braved bad weather and heavy traffic during a six-hour journey from her London home to attend the gala ceremony, where she expected to say a few words to the audience at the end of the night.

But the tables were turned when an emotional Nicola took to the stage at the Queen Elizabeth Hall as a winner and spoke of her pride at being able to put Oldham on the Olympic map this summer.

She said: "Everyday I get out of bed and something has to drive me to do what I do.

"Firstly its achieving a gold medal and secondly to bring something back to Oldham."

Speaking to the audience of 250 finalists, winners and special guests she said: "Tonight, you guys are so amazing, both those here and at home.

"You really make a difference and change lives for the better.

"I applaud you tonight, you are incredible.

"I am proud of all of you and to receive this award on behalf of the borough."

And holding both her crystal Pride in Oldham award as well as her Olympic gold medal aloft, she said: "Maybe in another four years, I can have another gold medal!"

The weather outside was frightful but inside the Queen Elizabeth Hall was a delightful and dazzling celebration of amazing Oldhamers

Warming

As rain, sleet and snow fell across the borough, heart warming tales of inspirational Oldhamers doing courageous deeds and amazing acts brought filled hearts full of pride for the borough's most inspirational individuals.

From heroic life-savers and fabulous fundraisers to kind-hearted carers and committed community members, the worthy finalists from each of the 12 categories took to the stage and had their moment of recognition.

During the moving ceremony, hosted by broadcasting veteran Marjorie Stephinson MBE for the fifth time, guests were uplifted thanks to inspirational tales of strength, selflessness and determination by ordinary people doing extraordinary things.

She said: "It's always heart warming, surprising and inspiring to discover so many people who give so much of their busy lives to contribute to making the borough a better place.

"I love hosting the awards and every year I look forward to hearing stories of people who have been chosen.

"Every year there is something that amazes and delights."

Local dignitaries attending the ceremony included Oldham Council leader Jean Stretton, Oldham East and Saddleworth MP Debbie Abrahams, Mayor of Oldham councillor Derek Heffernan and businessman Sir Norman Stoller CBE.

Councillor Stretton said: "The Pride in Oldham awards celebrate people from across the borough who are putting their heart and soul into the things they do and it is always an uplifting event.

"It's right that we should recognise their year-round efforts at a night like this, and it makes me feel very proud to be Council leader."

Greeted by the splendid sounds of Oldham Music Centre youth section playing rousing scored from movies and musicals, led by conductor Andy Wilson, guests had earlier sat down to a sumptuous three-course meal before the awards began in earnest and every deserving finalist proudly took to the stage for their moment in the spotlight.

Each of the finalists was given a special certificate marking their achievement with each category winner also collecting a stylish curved glass trophy.

There were 12 awards up for grabs on the night, with Voluntary, Groups, Professional, Education, Health, Schools, Business and Special Achievement decided by an independent panel of judges, Readers' Choice voted exclusively by the public, and two awards put forward by Oldham Council, Love Where You Live and Freeman Meacher Ambassador Award plus the Special Recognition award presented to our Olympic golden girl.

In three categories - voluntary, group and schools - sponsors the Rotary Club of Oldham Metro gave a £200 cash prize to further the work of the recipients.

Other surprises on the night included the Love Where You Live category, which was presented by Oldham councillor Abdul Jabbar to Hack Oldham entrepreneur and self-confessed 'geek' Andy Powell, who won the award for nurturing local talent through his community workspace.

Talent

The Freeman Meacher Ambassador Award, named after former Labour stalwart and Oldham West and Royton MP Michael Meacher, who died in October 2015, was presented by councillor Stretton to a stunned Mick Harwood, owner of Yorkshire Street store Scoots, Suits and Boots and ambassador for Oldham's Independent Quarter.

The Readers' Choice award, voted by over 2,500 Chronicle readers, went to daring deputy headteacher Steve Hill MBE, from St Joseph's RC Primary School in Shaw.

The Year-6 teacher, who has raised thousands of pounds for numerous charities through his amazing adventures, narrowly missed out on the Education Worker award earlier in the proceedings.

And there was a surprise in store for the team from Chadderton Wellbeing Centre who were joined on stage to accept their Special Achievement award by Oliver Smethurst, the youngster who they helped after being struck by a car and critically injured outside the centre.

The evening finished with the 12 trophy winners back on the stage for a group photograph and it was great to see many of the finalists going around the room the congratulate each other and share in the feelgood factor of the whole evening.

Oldham Chronicle managing editor David Whaley thanked all the people who had contributed to a spectacular evening.

He paid tribute to all the Oldham people who had taken the time to nominate people around the borough who really do go the extra mile to make Oldham a better place.

Praised

He praised all the finalists and hoped that they had enjoyed their moment on the red carpet and gave all the winners a special salute for their efforts.

David especially thanked the long-standing sponsors - some of whom had been with the Chronicle since the very first awards back in 2012 and appealed to other local businesses to add their weight of financial backing to make sure that the award events of Pride, Sport and Business go from strength to strength in 2017.

"If we stop telling these fantastic stories and honouring these amazing people t would be a very sad day for the borough."

Roll on Pride in Oldham 2017!