MP steps down as councillor
Reporter: Iram Ramzan
Date published: 03 January 2017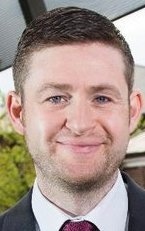 Jim McMahon
OLDHAM MP Jim McMahon is stepping down as Failsworth East councillor.

The MP for Oldham West and Royton posted on his blog that he would resign after being councillor for 13 years in order to fully commit to his role as MP.

Mr McMahon was only 23 when he was elected councillor in 2003. In 2011 he became the youngest council leader in the country at the age of 30.

When Oldham West and Royton MP Michael Meacher died in October 2015, having held his seat for 45 years, it triggered a by-election, which Mr McMahon won in December 2015.

Most recently he was promoted to act as shadow minister for local government and devolution in October 2016.

Oldham Council leader Mr McMahon has been the driving force behind many projects including the transformation of the old town hall into a cinema complex, as well as the new leisure centres in Oldham and Royton.

He stood down as leader of Oldham Council in January 2016, soon after the by-election and did his best to combine both roles.

Support

Mr McMahon said: "On being elected as the MP for Oldham West and Royton in December 2015 I stood down as leader of the council and committed to reviewing my position as a councillor.

"I have continued to support residents with casework and have attended the majority of local meetings. It hasn't been possible however to attend council meetings in Oldham which take place when parliament sits and with my new responsibilities as Shadow Minister for Local Government demand on my time will only increase.

"It has been an honour and privilege to represent Failsworth East."

Oldham Council will now face a by-election for the Failsworth East ward.