Keep off our green space
Reporter: Iram Ramzan
Date published: 03 January 2017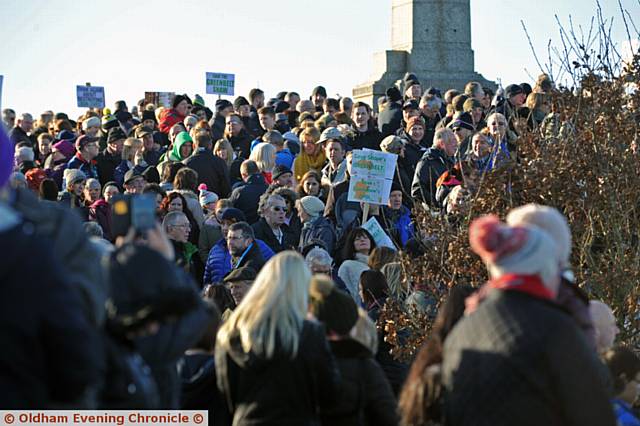 LEAVE our land alone . . . the protest walk
THE "jewel in the crown" was how Oldham's Greenbelt was described at a peaceful protest in Royton yesterday.

Nearly 3,000 members of various action groups joined forces for the Save The Greenbelt Walk at Tandle Hill Monument at noon.

They came from across the borough ­- and further afield ­- to object to the plans to build thousands of homes on Oldham's Greenbelt, put forward under the Greater Manchester Spatial Framework (GMSF) draft plan. The GMSF plan outlines a need for an extra 227,200 new homes across Greater Manchester by 2035, including 13,700 (six per cent of the total) in Oldham.

The protest was co-organised by Gary Palmer and Noel Mahon of Save Royton's Greenbelt. The location was picked as it overlooks the proposed sites of one of the housing developments.

Gary said: "I would say we had around 2,500-3,000 people here today. We're absolutely amazed with the turnout and I think the weather has certainly been on our side.

"We have a few meeting points at different places. We're pushing for objection letters to be sent by 5pm on January 16. I want to thank the Royton group for the kind donations they have made. They will go towards printing costs of banners and leaflets."

Practicality
Some of the concerns raised include loss of the Greenbelt, pollution and urbanisation of the countryside.

"It's not nimbyism, it's practicality." That was the view of Vince Higgins (63), a self-employed plumber whose family have lived in Royton for four generations.

He said: "There are a lot of brownfield sites that can be developed. The area opposite Tandle Hill Court ­- that could be developed. The road system is inadequate.

"A couple of months ago Rochdale Road collapsed. It shows the sewers can't take it.

"Much of the roads in Royton would have to be turned into dual carriageways because the roads can't take the pressure.

Neighbours Sylvia Hopkinson and Margaret Barlow, also from Royton, walk through the countryside every day and are concerned that their outdoor space could disappear soon.

Sylvia (75) said: "I'm not very happy with it. We walk every day ­- we just like the countryside."

Margaret (68) added: "We don't mind a few houses. But there will be no green space left, just houses all the way up to the motorway."

Several drop-in sessions took place in November and December. But retired health worker Gordon Tilstone (62), from Slattocks, claimed most people were unaware of them.

"There has been a total lack of consultation on the GMSF plan," he said. "People's views don't seem to have been taken into consideration at all.

"We like our Greenbelt, our big green space. It's used by so many people. A lot of people come from miles away, You get walking groups, cycling groups and horse riders.

"If this is covered in more houses it will ruin it.

"We knew nothing about the drop-in sessions that have taken place. It's been done in an underhand way."

Rev. Sue Spencer (61), also from Slattocks, expressed concerns that more people could put even more pressure on local services.

"I've lived here for 35 years but I lived in Royton and Shaw before that, so it's all precious to me," she said. "I appreciate the need for more housing. But it needs to be more thought out than what is being proposed.

"The development proposed would swamp our community. We're only a small community to begin with. An influx of a lot of people through more housing, or an increase of industrial space, when we have already got it, is such a lot.

"We wouldn't be able to absorb people on that scale. We're a warm community and we want to be able to welcome people, which we can do if it's a small but thought out development."

Susan Jackson was one of the 350-people group that came from Shaw.

A school lab technician, Susan said: "Shaw gets gridlocked now. What's it going to be like after this? I'm disgusted and amazed at this. It's unbelievable what they're contemplating."

Natalie Yates-Bolton (50) and Tracy Woodward (49), were in a group of 150-200 people who came from the Save the Greenbelt Chadderton group. They grew up together in Chadderton and have stayed to raise their families there and wish to protect the Greenbelt.

Natalie, a lecturer in nursing, said: "The Greenbelt was a big part of our growing up and our wellbeing. We want it to be here for our children and the future generation."

Tracy, a languages teacher, added: "The Greenbelt is one of the few positive aspects of Oldham. If that goes we will just go further down the tables for places to live.

"It's not massive but it's all we have got."