Determined director loses cancer battle
Reporter: Rosalyn Roden
Date published: 17 January 2017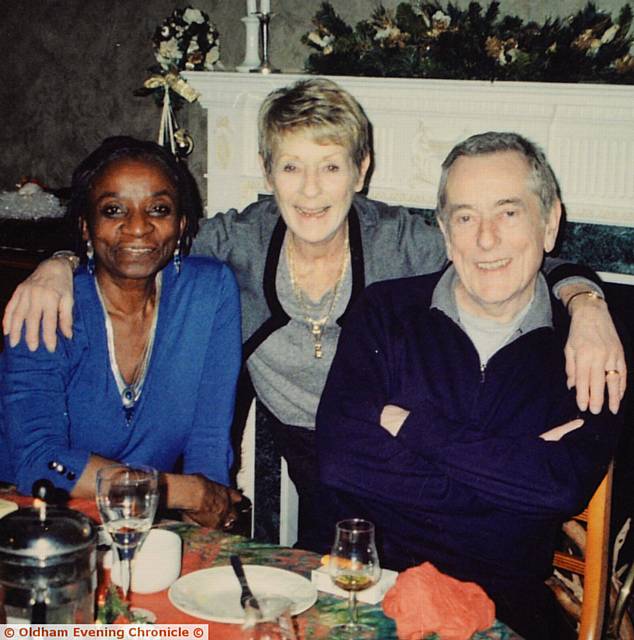 DAVID Richards with sister Evelyn Buckley (centre) and wife Judith
A RESPECTED and talented Hollinwood-born TV film director has died aged 68 after losing his battle with cancer.

Family paid tribute to "dearest brother," husband and father-of-two David Richards who completed his last project "just in time."

When he fell ill, David had not long finished directing two episodes of Silent Witness, the first of which featured on BBC1 yesterday with a dedication to him in the end credits.

Despite his "humble beginnings" David advanced within the industry to direct episodes of The Bill, Coronation Street and Emmerdale among others.

One of his two sisters Evelyn Buckley (75) said: "We were so proud of David.

Growing up

"When David was born I was nearly eight and my sister Emily was 15 so he was quite a surprise to us all. The fact he was a boy was even better.

"He was a lovely child. With me being nearly eight, he was referred to as 'my David.'

"Growing up, life was pretty simple. There was no TV then so we made our own entertainment. We had loving parents."

David was born at the four-bedroomed family home of the late David and Hilda in Hollinwood.

The family then moved to Richmond Road, Failsworth, where David attended Limeside school, played Rugby Union at Keb Lane and pursued his interest in painting.

David, who had pneumonia as a child, was unwell with a chest infection when he sat his eleven-plus examination and the family was overjoyed when he passed.

He left Hathershaw Technical High School aged 18 and went on to Art School in Coventry where he graduated with a BA in Fine Art.

Evelyn said: "Painting was put on the back burner when he and some friends from college decided they wanted to make a film.

"He joined Granada TV as one of the youngest directors in the country but soon became one of the chief people responsible for creating medical drama 'The Practice.'

"He was very determined. Last year he just managed to finish his work on Silent Witness."

David worked his way through the industry, taking up a researcher role on a wide variety of programmes.

For the most part he worked as a freelance TV director and initially he focused on documentary and current affairs programmes.

But as he gained experience he moved into drama television series, eventually being nominated for BAFTA Awards.

In 2000 he won the Best Director award at the New York Film and TV Festival for This Is Personal: The Hunt for the Yorkshire Ripper.

Soon after, David joined wife Judith and Burnley-born screenwriter Paul Abbott to form their own company AKA Pictures.

Together they produced the 2003 two-part drama Alibi starring Michael Kitchen.

David died peacefully at his home near Caledonian Park, Islington, on January 9. A funeral will be held on January 27. He leaves behind wife Judith, sisters Emily and Evelyn and children Dan and Amy from his first marriage.