Boss is sent to jail over asbestos risk
Date published: 02 February 2017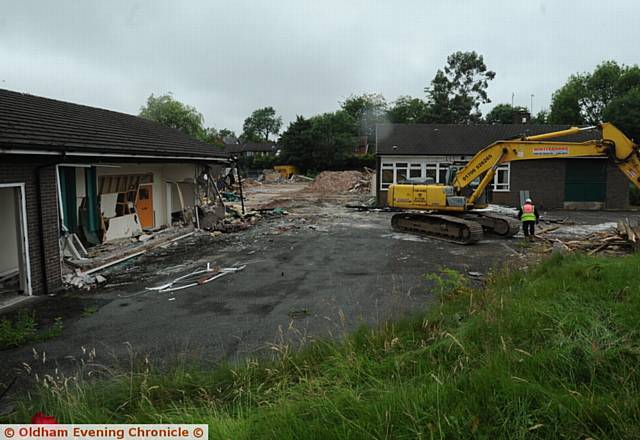 THE former Oakbank Training Centre in Chadderton was demolished by a different company after demolition work on site continued following the HSE investigation into Briggs Demolition
A DEMOLITION boss has been jailed after putting workers and nearby residents at risk of "serious harm" by exposing them to asbestos during a Chadderton operation.

David Briggs (74), who runs Bury-based Briggs Demolition, was contracted to demolish the former Oakbank Training Centre in Chadderton in 2015.

He advised the owners of the site to commission a survey of the building before any demolition took place. This found about 230 square metres of asbestos.

Toxic

However, despite this discovery, he began tearing down the building without having the toxic material safely removed.

Briggs had already torn down about half of the building by the time the Health and Safety Executive (HSE) received a tip-off from a member of the public in May 2015. HSE investigators visited the site, but Briggs denied there was any asbestos.

Officials stopped the work until further tests were carried out, with HSE scientists visiting and confirming the presence of asbestos.

The court was told that during the demolition, three of Briggs' employees were potentially exposed to the deadly material, which can cause cancer.

Briggs pleaded guilty to failing to protect the safety of his employees, failing to protect the safety other persons not employed by him, failure to prevent the spread of asbestos and one count of illegally removing asbestos materials without a licence.

He was sent to prison for 24 weeks by district judge Nicholas Sanders during a hearing at Manchester Magistrates' Court.

Ignored

After the case, HSE inspector Matt Greenly said: "Mr Briggs wilfully ignored a professional asbestos survey, instigated by himself, and in doing so failed in his duty to protect his workers and anyone else around this site from a foreseeable risk of serious harm.

"Asbestos-related diseases are currently untreatable and claim the lives of an estimated 4,000 people per year in the UK.

"It is beyond comprehension that Mr Briggs ensured his client had a sufficient asbestos survey carried out before demolition began and then wilfully ignored its findings thinking he knew better.

"The reality is that the costs of removing this asbestos properly were saved by Mr Briggs so he could drastically undercut his competitors.

"This act of putting profit before safety is wholly unacceptable.

"The legacy facing anyone who worked on this site is immeasurable.

"They now have to live with the realisation that due to the lack of care taken by Mr Briggs they may face a life shortening disease at some point over the next 30+ years from an exposure which was totally preventable.

"This case sends a clear message to any individual or company that it does not pay to ignore known risks on site, especially to increase profits at the expense of people's lives."

The site is currently vacant with plans to build a 64-bed residential care home on the plot submitted for planning consideration.