Avro's new stadium is taking off
Reporter: Jacob Metcalf
Date published: 08 February 2017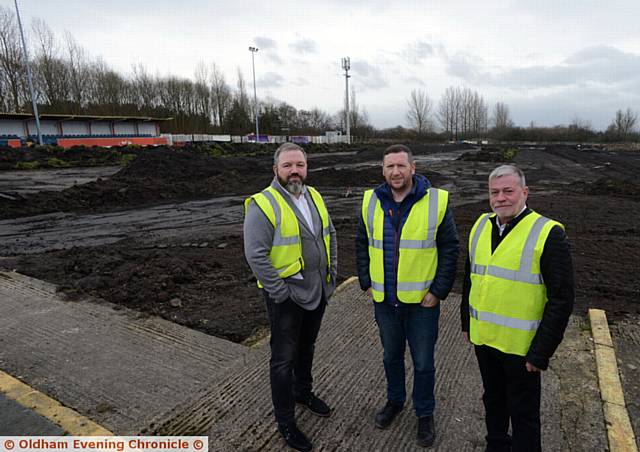 TAKING shape . . . Rob Fuller, centre, chairman of Avro FC checks on progress at the newly-named Vestacare Stadium with Norman Lowrey (left), Vestacare managing director, and Danny Hughes Vestacare director
THE development of the newly-named Vestacare Stadium will be something the community can be proud of, the man behind the project says.

The stadium, formerly Whitebank Stadium, was renamed after Avro FC, who will be the main tenants, got the backing of sponsors Vestacare and club chairman Rob Fuller believes the project will be something to benefit the whole community.

Expected to be ready by May this year, the development will see the current pitch upgraded to an all-weather 3G surface, a new training pitch and the club house spruced up. Avro, who play in the Manchester League used to be based at the Lancaster Club on Broadway.

With the facilities being upgraded, the stadium will also see the return of Oldham RL to the site as they had to leave following promotion because the ground did not meet the requirements of the Rugby Football League.

Mr Fuller said the upgraded stadium will be available for community use throughout the year and the club house will be available for all kinds of events.

Mr Fuller gave special thanks to the Manchester-based business, which provides services for people with learning disabilities, for its investment in the project and is hoping other businesses will get involved. He said: "Avro wants to thank all the businesses already supporting the club. Firstly, we want to thank Jean Stretton and Mark Prestwich from Oldham Council for securing the site and working to make sure it's the best in the borough.

"We want to thank Vestacare for being the main partner with the club. The Vestacare Stadium will also be the new home of other local sports clubs.

"Other local businesses such as Regenda Homes and Sudlows are also major partners in moving the site forward and we are keen for local businesses to get involved. Modo Furnishing, Barca Bar and Mitre Hotel have also agreed to assist."

Mr Fuller went on to say: "The Vestacare local community stadium will aim to be the best in the area and be available to hire during the week from 5-10pm. The facility is one of the only 3G pitches specifically for rugby and football.

"We're looking to have it ready by May.

"Hopefully over the next 25 years we can push on with the site and make sure that it gets used, it is really positive."

Those interested should contact Avro FC at avrojfc1989@yahoo.com.