Red letter day
Reporter: Iram Ramzan
Date published: 17 February 2017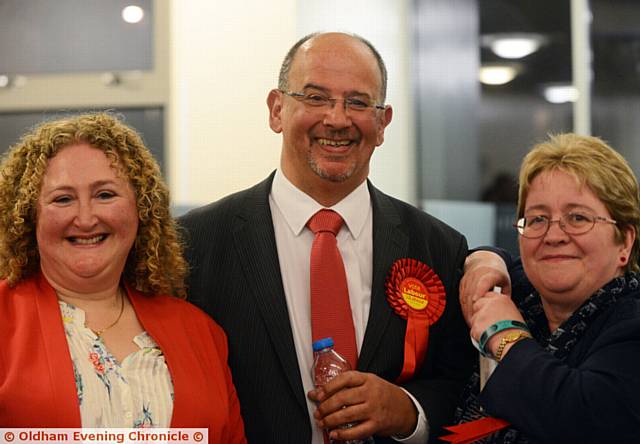 FAILSWORTH East by-election winner, Labour's Paul Jean Jacques with his wife Elizabeth Jacques (left) and Oldham Council leader Jean Stretton
LABOUR comfortably retained its seat in yesterday's by-election in Failsworth East with Paul Jean Jacques winning 829 votes (58.3 per cent) beating second place Antony Cahill, of the Conservatives (360 votes, 25.3 per cent) and UKIP's Nicholas Godleman a distant third with 166 votes (11.7 per cent).

The turnout was low ­- not uncommon for a by election ­- at 1,422 or 18.3 per cent.

Polls closed at 10pm after which the votes were counted and verified at Failsworth Town Hall in Oldham Road. The results were announced shortly after 11pm.

Successor

The ward was up for grabs after Jim McMahon decided to stand down from his position as a councillor to concentrate on his role as Labour MP for Oldham West and Royton.

Mr McMahon was first elected as a councillor in 2003, aged just 23, and has held the post for 13 years. In 2011 he went on to become the youngest council leader in the country at the age of 30.

Following the death of Oldham West and Royton MP Michael Meacher in October, 2015, Mr McMahon stood in the resulting by-election and won.

His successor Paul Jean Jacques has lived in Failsworth for 35 years and worked as a teacher in Manchester, Rochdale and Tameside. He was an executive headteacher at All Saint Catholic College in Dukinfield and head of the former Stamford High School, now New Charter Academy.

Councillor Jacques said: "I'm delighted. All I would ever want to be able to do is to serve the people of Failsworth as well as Jim McMahon has done. I'm a local candidate and I understand the local issues.

"I'm proud to be an almost adopted Failsworthian. I've been here almost 40 years. I think it's a community that is second to none in terms of strength and character."

He added that he would bring to the council chambers whatever issues the people of Failsworth East will bring to him.

Dominance

Councillor Jacques will join the other councillors in the ward ­- Norman Briggs and Cherryl Brock, both of the Labour Party.

MP Jim McMahon expressed his happiness at Mr Jacques' victory, having been taught by him at school, and said he will put in the hours to be an "outstanding councillor."

Mr McMahon said: "He's somebody I look up to. It was a difficult decision to stand down in the first place and it's rewarding for someone like Paul to step in."

Nicholas Godleman, from UKIP, believes the party lost partly due to Labour's "dominance" in the area. He also said that Brexit had an impact on the voting, which led to the Tories coming second and UKIP third.

He said: "There was a strong Tory showing. The candidate was local. I'm not from the area.

"Labour has a century of tradition behind them for whatever reason.

"Jim McMahon has cultivated a personality cult. It resonated in giving his successor an easy path in to Oldham Council."

Also present was Ashton and Failsworth MP Angela Rayner, who added: "I think it's a fantastic result for Labour. He was a really good candidate who is part of the community. I think Paul is going to be fantastic for the Failsworth area. He's going to continue to champion for Failsworth East."

Oldham Council leader councillor Jean Stretton said: "It's a fantastic result for Labour. I welcome Paul Jacques as a new Labour councillor for Failsworth East. It's good to see that UKIP were pushed into third place.

Option
"By-election turnouts are always low but in that turnout we clearly convinced the Failsworth electorate that Labour is the best option for Failsworth and the best option for Oldham."

Green Party candidate Andy Hunter-Rossall, a maths teacher in Oldham, said: "We're quite disappointed in the turnout. Most people wouldn't have been engaged. I think there's a lot of work to do."

Coming in last place was Lib-Dem candidate Shaun Duffy, who is currently chairman of Shaw and Crompton Parish Council.

Councillor Duffy was disappointed in the result as his party came in last, managing only 16 votes. He said: "It's a pretty tough time for the liberals at the moment but we're on our way up."