Celebrating the rise of woman power
Reporter: Iram Ramzan
Date published: 13 March 2017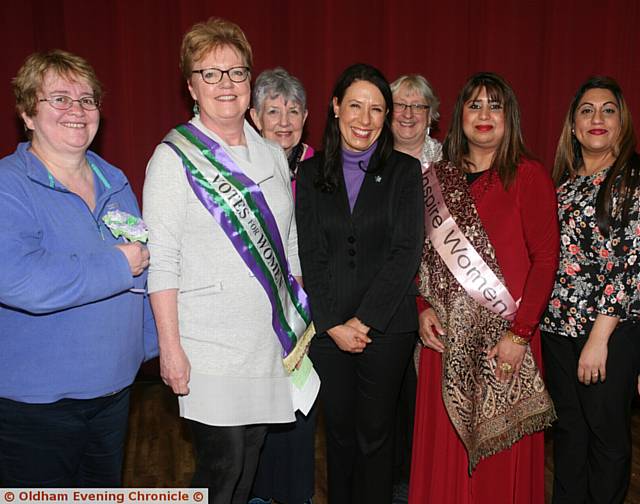 WOMEN united . . . At Saturday's event are, from left, Councillor, Jean Stretton, Oldham Council leader, Councillor Jenny Harrison, Councillor Susan Dearden, Oldham East and Saddleworth MP Debbie Abrahams, Councillor Hanna Roberts, author Carol Talbot, Councillor Yasmin Tor and Umar Nasheen.
THE past achievements of Oldham's women were the highlight of this year's International Women's Day event.

Saturday's event at Gallery Oldham was focused on Annie Kenney, a cotton mill worker from Springhead who became a national leader of the suffragette campaign.

The town's female political leaders, Debbie Abrahams, MP for Oldham East and Saddleworth, and Oldham Council leader Councillor Jean Stretton, gave inspiring speeches at the event, which was supported by Oldham Labour Women's Forum.

They spoke about the work still to be done in the fight for women's rights and their support for a statue to honour Annie.

They believe a statue in Oldham's new Parliament Square will be a fitting tribute to working women and will complement the new statue of Emmeline Pankhurst, which will stand in the centre of Manchester.

The Annie Kenney statue is expected to cost about £40,000. GMB North West and Irish Region, which has offices in Oldham, has kick-started the campaign with a £4,000 donation - £8,000 is needed to begin the work.

Leander Architecture, in Buxton, which produced the Ben Brierley Statue at Failsworth Pole, will make the bronze.

A committee has been formed for the project chaired by Oldham West and Royton MP Jim McMahon, with Mrs Abrahams and Ashton and Failsworth MP Angela Rayner serving as patrons. Councillor Stretton is vice-chairman.

Mrs Abrahams said: "I'm amazed by her life story, with her mother being a real inspiration and encouraging her education and keeping her going.

"Many of us here and beyond can relate to that, how mothers are important.

"You can't underestimate the work she and others like her did, and led the trail for women MPs and women councillors.

"We must remember not just the women behind this but the men that share those goals, the dads behind their daughters, that they can succeed in their futures.

"Lets work together and take this forward."

Councillor Stretton, who is also the only female council leader in Greater Manchester, said while there has been progress there is still more to do.

She said: "International Women's Day was started in the 1900s but it's just as relevant today as it was then. We should be proud to celebrate it.

"We have come a long way and we continue to make leaps forward. We need to make sure we loudly call out sexist nonsense when we see it, just as we would with other forms of prejudice.

"It was great to stand with other MPs in Parliament Square to launch the Annie Kenney memorial fund. It feels right that we're going to honour Annie in a significant way in a prominent location such as Parliament Square."

Contribution

Dozens of women, men and children attended and watched Boomtown Gals, a commemoration of the contribution of the borough's women in the First World War.

In 2015, people from Oldham, including members of Oldham Coliseum's Full Circle group, took part in a research project funded by the Heritage Lottery Fund and weeks of research unearthed awe-inspiring stories about the town's women.

Writer, actor and director Joyce Branagh wrote, produced and performed Boomtown Gals, which has been nominated for two Manchester Theatre Awards

She said: "We showed it today to celebrate ordinary women from Oldham doing extraordinary things, being quietly amazing.

"One of the women featured was a surgeon at Oldham Infirmary in 1911, when there were probably only 100 female doctors. Women like her are perhaps forgotten about and it's about reminding people about them."

Jackie Harrison, from the Muslim Jewish Forum in Manchester, came from Salford for the event.

She said: "I really enjoyed the play, it was really inspirational. It was very moving and beautifully written. Today's event has been fabulous and inspiring."

Joan Tomlinson (77) came from Shaw with her husband Colin (72). Joan helped with research for the play.

She said: "I thought it was very good. I think International Women's Day shows we're a force to be reckoned with."

Supporters from Oldham Youth Council, Inspire Women and Saddleworth Palestine Women's Education Group were also at the library with their stalls of information and products to buy.

Carol Talbot, a retired primary school teacher from Oldham, is writing a book about Annie Kenney's life, which is due to be published this year.

She decided to write the book after a friend asked her if there were any books on Annie's life.

There is a limited edition biography, which is only available in a few places, so Carol undertook research on Annie's life to ceate this detailed book.

She said: "I didn't always agree with what she did. For example, I thought the fire bombs was a step too far, but I could see why she was pushed into doing that. She felt they were let down numerous times by the government.

"She was a very strong woman although she wasn't well educated.

"She was incredibly brave. She suffered a lot with the hunger and thirst strikes. Sometimes she was carried into meetings on a stretcher. She felt inequalities for women wouldn't be rectified unless they got the vote and a political voice."

On Friday, food and literature united women from different faith groups at Greenhill Academy in Harmony Street.

The Care Help And Inspire Project hosted an event with Muslim, Christian, Jewish and Buddhist women share stories and food from their cultures.

Also present was Qaisra Shahraz, a British-Pakistani novelist, who lives in Manchester. Ms Shahraz writes mainly about Muslim women living in western societies and at the event she read an extract from her book Typhoon.