Nick proves he's 'one to watch'
Reporter: Gillian Potts
Date published: 22 March 2017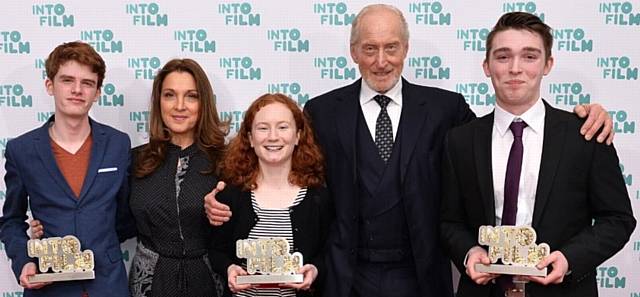 Nick Connor (right) with Charles Dance and James Bond producer Barbara Broccoli and the two other 'Ones to Watch' winners, Kerri Donohoe and Dylan Starr-Adams at the INTO film awards
AWARD acceptance speeches always include a long list of thank-yous for everyone from directors down to the family dog.

But teenage film talent Nick Connor really had to make sure he mentioned his mum, Geraldine, when he was presented with a prestigious industry award at London's Odeon Leicester Square last week... as she nominated him for it.

Nick, the writer and director behind Oldham-set Northern Lights, which premiered at the town's Odeon in November, was named in the Ones To Watch category for the Into Film Awards, which recognise outstanding youngsters up to 19 from the UK who have demonstrated exceptional achievements in film-making and reviewing,

The astounded 17-year-old, from Royton, who is also currently revising for his A-levels, was presented with his accolade by British actor Charles Dance.

Also in the room at the star-studded, red-carpet event was Oscar-winning actor Eddie Redmayne, Daniel Craig and Ruth Wilson as well as a host of industry heavyweights and members of BAFTA.

Nick, who was one of three recognised in the category for having demonstrated exceptional talent and ambition in and around film, said it was incredible to be honoured among such budding talent and he was given inspiring advice by both BAFTA and INTO Film.

"To hear I'd won was unbelievable," said Nick, who was in his bedroom doing his homework when the news broke.

"I was shocked. It was surreal really. My mum shouted me downstairs and said she had something to tell me.

"To be at the awards among all these incredible people was fantastic.

"Eddie Redmayne is one of my favourite actors and although I didn't actually get to speak to him, I saw him, which was amazing.

"I went to BAFTA and spoke to their head of new talent, Tim Hunter, who gave me advice on how to take myself further. It was just an incredible experience which was inspiring."

Nick also wrote and directed Think Of Me at the age of 16, a short film which was an official selection at the Pennine Film Festival and at Leeds Young Film Festival where it was nominated for the Independent Directions award.

His mum said: "I decided to nominate Nick because he has an unbelievable drive to create film and to share his knowledge of film with others.

"For one so young he has committed a great deal of his spare time to developing his skills as a director and the end result has been one fantastic feature film and three short films.

"To see Nick directing actors such as Leanne Best, Kate Rutter and Crissy Rick in his latest work in progress, Cotton Wool, was amazing.

"I was delighted to find that Nick had won the Into Film Ones To Watch award. As a family we are all incredibly proud of him and his achievements so far."

Nick wrote, directed and co-produced the 55-minute feature film Northern Lights and he's now working on Cotton Wool, which tells the story of a seven-year-old boy, played by Max Vento of BBC1's The A Word, who cares for his mother following a stroke with little to no help from his older sister.

It also stars Leanne Best, who has appeared in Star Wars: The Force Awakens, Cold Feet and Line Of Duty, Kate Rutter who played a benefit clerk in I, Daniel Blake, Katie Quinn, who was in Northern Lights, who attended Saddleworth Drama School run by Judith Barker and Crissy Rock, best known for Benidorm and I'm A Celebrity.

Nick said the film is now in post-production and hopes it will be finished by December.