Musical treat with top brass talent
Reporter: Jacob Metcalf
Date published: 28 March 2017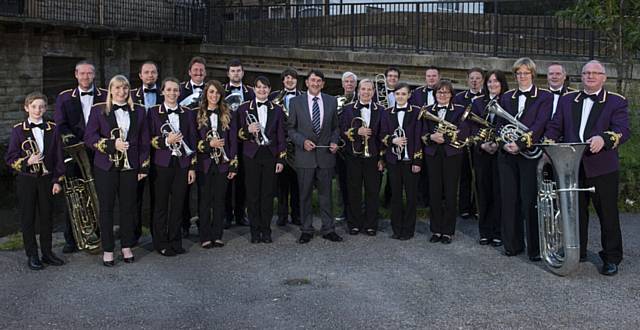 Delph Band are going to the national championships and playing at the Mass Brass concert
SADDLEWORTH certainly has a lot of musical talent on offer and revellers will get a taste during a Mass Brass concert.

The concert, to be held at Uppermill Civic Hall on Saturday, April 1, from 7.30pm will feature Boarshurst Silver Band, Delph Band, Greenfield Band and Dobcross Youth Band.

Two of the bands, Boarshurst Silver Band and Delph Band, recently qualified for the National Brass Band Championships which will be held in Cheltenham this September.

The two bands qualified during stiff competition in the North-West regionals, held in Blackpool, which saw 21 bands battle it out to reach the championships.

Jessica Todd, a Delph Band member, speaking about qualifying, said: "We are really pleased, it is quite a big thing getting to the nationals.

"There were 21 bands in the North West regionals so there is a lot of competition, but that is good. Hopefully we will do well at the nationals.

"Going to the nationals is really good, I have done it once with the band in 2010 when we won it and we won it in 1980 so it would be nice to get the hat-trick.

"Everyone is looking forward to it, we're just getting our heads round the fact that we are going. We did work hard but it came as a surprise."

But before they will be judged in Cheltenham, they will first ensure their local fans are shown what a rich heritage the area has for music and brass bands.

Neil Jackson, president of Boarshurst, said: "We are very pleased that there is such a wide range of talent from Saddleworth and that will be showcased at the concert."

Tickets are available from each participating band at £7 for adults, £6 for children.

For more information visit the band websites on boarshurstband.co.uk, delphband.co.uk, greenfieldbrassband.co.uk and dobcrossyouthband.org.uk.