'Mod' machine turns up three decades on
Reporter: Lucy Kenderdine
Date published: 29 March 2017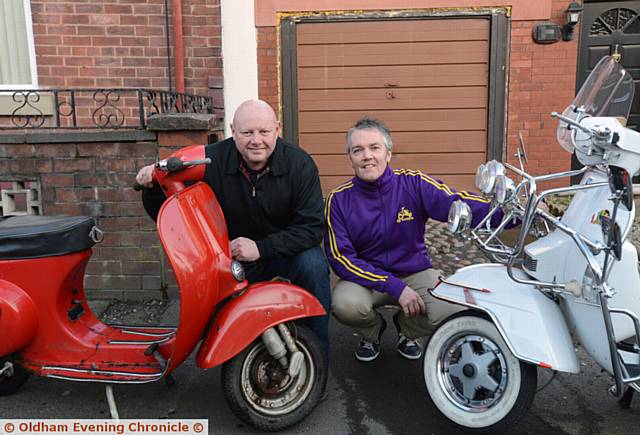 TONY Crocker (left), who found the scooter, with Simon (right) and his new machine
IMAGINE your beloved Vespa 100cc scooter suddenly landing back on your doorstep after more than three decades.

Well, that's just what's happened to Chronicle sport and music journalist Simon Smedley, from Chadderton.

A quite unbelievable turn of events has meant that Simon, who turns 51 next week, has been dramatically reunited with his beloved 'mod' machine after a pal of his from school days - non-scooterist Tony Crocker - ended up buying it recently from a former colleague at Emmanuel Whittaker Ltd, on Rochdale Road in Royton.

Originally purchased brand new in 1983 from the now demolished 'Two Wheels' motorcycle store in Middleton, Simon, then 17, enjoyed many happy hours on the cherry red machine before trading it in a year later at a now bulldozed Stretford dealership, against the purchase of a new Lambretta 200cc bike after he'd passed his motorcycle test.

That was the last he was to see of it - or so he thought.

Simon said: "Tony messaged me around nine months or so ago and said he'd spotted this old red Vespa in the factory where he'd worked.

"He let me know because he knew I was into scooters in a big way, so I asked him to let me know in return if he ever decided to buy it and I'd call round to see it.

"He got in touch last week and said he'd bought it, and he thought it was a 125cc model.

"I replied saying it looked like a Vespa 100 because I'd had one 30-odd years ago that looked a bit like it.

"I joked with Tony saying that I could even remember the number plate of mine, and then came the stunning reply.

"Tony sent me a picture of the reg plate and there it was - ERJ445Y!

"The realisation sent shivers down my spine, and the response from friends and family has been one of utter shock.

"Some of my mates have been looking for their first scooter for years, and my old one has turned up having been covered up in Oldham for 30 years (the 1987 tax disc was still on the scooter)."

Tony now intends to restore the Vespa to its former glory, despite not having worked on or even ridden one before.

He said: "I'll just aim to try and get it back to its original condition, with no chrome, mirrors or spotlamps.

"It's a bit rusty, but my Dad was a mechanic in the Army so I was brought up with him servicing cars all the time. I always watched and learned."

The scooter may not actually belong to Simon any more, but pal Tony has at least promised him first ride once it's on the road again.

Asked when that will be, Tony replied: "I intend to have it back on the road by the end of the summer depending upon - and pardon the pun - how rusty I am too!"