Debbie's demand for action on fly-tipping
Reporter: Iram Ramzan
Date published: 04 May 2017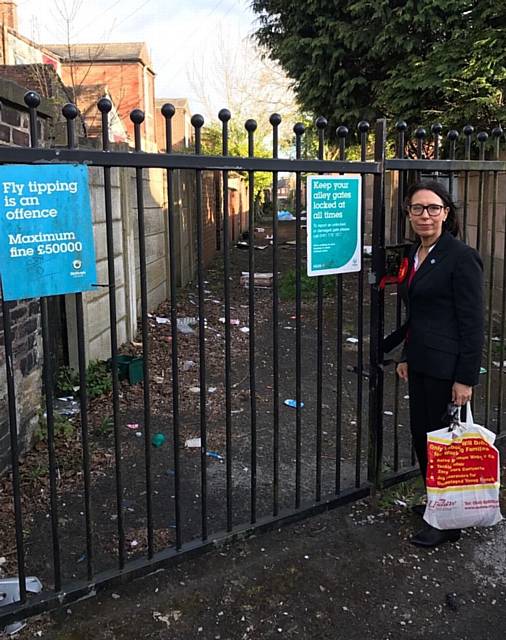 TACKLING fly-tipping . . . Debbie Abrahams
DEBBIE Abrahams is demanding the government does more to tackle the growing scourge of fly-tipping.

Mrs Abrahams, who is Labour's candidate for Oldham East and Saddleworth in June's General Election, has written to Andrea Leadsom, the environment, food and rural affairs secretary, to ask the government to assist councils in tackling litter and fly-tipping.

Mrs Abrahams said: "Every time I go out knocking on doors and meeting residents, they are telling me they are fed up with the level of fly-tipping that seems to be getting worse across the borough.

Measures

"The government has just published its Litter Strategy, but the measures on fly-tipping lack teeth, so I've written to them to demanding additional steps are taken to take to assist councils to tackle the issue.

"The amount of waste being fly-tipped has increased rapidly in recent years, not just across Oldham East and Saddleworth, but across the whole of the UK.

"I've been working with Oldham Council, and their waste management and enforcement teams, on this issue but persistent fly-tipping on some sites has become a major problem which hasn't been deterred even by CCTV installation.

"I would be in favour of extra powers to stop and search vehicles to detect environmental crime, particularly given that the instances of fly-tipping on highways is increasing.

"Oldham Council believes that there are increasing numbers of people operating as illegal waste collection businesses and that the waste that they collect is often illegally dumped.

"The most recent high profile example is Maple Mill where it was discovered, during the investigation following the fire, that the site had been used as an illegal waste site.

"We need the Home Office and police to investigate illegal waste transfer operations and the extent to which they are connected to organised crime. And the Environment Agency needs adequate funding to strengthen their ability to act in a timely and robust fashion."