Mind that child
Reporter: Iram Ramzan
Date published: 11 May 2017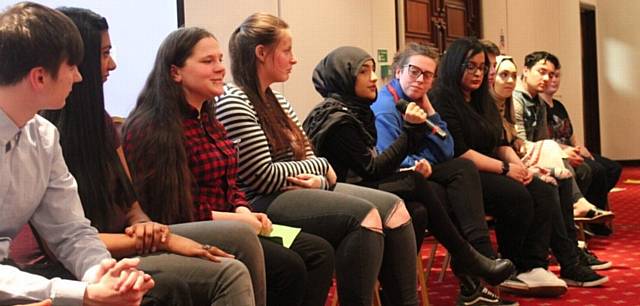 HAVING our say . . . youngsters take part in the mental health project
YOUNG people are urging schools and colleges to have more training around social media as they feel the internet is adding to problems around bullying and self-esteem issues.

This was one of a series of recommendations from 20 youths, who were recruited to become the first citizen researchers for MH:2K, a pioneering new project which enables young people to explore mental health issues and influence decision-making in their local area.

Mental health conditions affect about one in 10 young people, with vulnerable groups particularly a risk. Young people have a unique and vital perspective on their mental health ­- the challenges they face, information they need, and what is and isn't working about existing services.

As part of Mental Health Awareness Week, the group, who are from various backgrounds, gave a presentation on the topic of mental health and how it affects young people at the Queen Elizabeth Hall on Tuesday.

The project's work has been informed by a local expert panel, chaired by Alan Higgins, director of public health at Oldham Council.

Armed with the right knowledge and support, the group selected five key priorities to address through the pilot: self-harm, stigma, professional practice, family and relationships and the environment and culture of education.

They co-designed and delivered 42 workshops for 598 other young people in Oldham on the five priority topics, from which they made various recommendations and solutions based on their findings.

A problem which was raised often with the citizen researchers was about the rise of social media and how it can exacerbate bullying. They believe the nature of bullying has changed dramatically compared with 20 or 30 years ago. With more young people now having access to smartphones and the internet, bullying does not stop when they get home from school or college and there is no safe space for them.

One of their recommendations was to get schools and colleges to update their policies on social media every six months, as technology is always advancing.

They also found young people still felt there was a stigma around the topic of mental health and they felt a pressure to follow religious and cultural beliefs.

Young men, in particular, are bottling up their emotions and feel they have to be "strong".

Another important point noted, from talking to other young people, was that the NHS leaflet on self-harm was not young-people user friendly. Their suggestion was to improve the booklet to be more suitable for youngsters.

Zara Akhtar (23) bravely spoke out about her mental health problems. She explained that she was studying for her PGCSE, which she found stressful. This led to her being admitted into a psychiatric ward with a diagnosis of psychosis and schizophrenia.

She got involved with MH:2K after her support worker told her about the project. Since then her transformation has been remarkable and she has gone from someone who could not speak or leave the house to someone who can give deliver presentations with confidence.

Zara said: "I had a difficult year. I hit rock bottom. Since February I've had to re-build my life, talking again, going out into society. It took a while to do that.

"MH:2K was the seed for me. It gave me growth and light at the end of the tunnel. It gave me sunshine.

"It gave me the skills to stand in front of people and present. My confidence started growing. It made me human again."

Lauren Thompson (19) who works for Groundwork Prince's Trust programme, became a citizen researcher due to a passion in mental health issues.

"When the project first came up I thought this was my chance to be heard and give my voice and opinion," she said. "The response we got and the ideas have been amazing. I can say now that I have done my part."

Oldham Sixth Form student Zainab Khalid (19) decided to be part of the group as she was already doing work with the Wellcome Trust.

She said: "I want to try and make mental health issues more accessible rather than being stern and difficult things. Personally, I want to make a difference in schools and have more teachers aware of issues."

By harnessing young people's experiences and views, decision-makers can now gain deeper understanding of mental health issues in their area and new insights about effective solutions.

Sarah Allan, engagement lead at Involve and MH:2K co-lead, said: "It's fantastic to see the commitment in Oldham to making changes to mental health prevention, support and services as the result of MH:2K's findings and recommendations.

"No-one knows what is and isn't working for young people as well as young people themselves. It's vital to give them a real voice and influence over the services which affect their lives and that's exactly what Oldham is doing."

Rose Dowling, director of Leaders Unlocked and MH:2K co-lead, added: "MH:2K has been a real demonstration of the skills and potential of young people. Our citizen researchers have played a vital role in the project, choosing the project's focus areas, engaging 600 of their peers to give them a voice on this important topic, and deciding the project's recommendations. They've shown the true value in letting young people take the lead."
Most Viewed News Stories