Champion of girls is Woman of the Year
Reporter: Iram Ramzan
Date published: 16 May 2017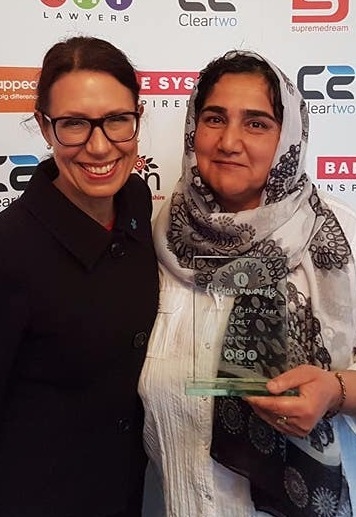 AWARD . . . Marzia Babakarkhail with her award and Debbie Abrahams, Labour Parliamentary candidate for Oldham East and Saddleworth
A FORMER judge from Afghanistan who now lives in Oldham has been named as Woman of the Year at a prestigious awards ceremony.

Marzia Babakarkhail was one of three people shortlisted for the category in the 2017 Fusion Awards, which took place in Blackburn at the weekend.

The Woman of the Year award is presented to someone who has made a lasting and impressive contribution to their community or excelled in their chosen career or has battled against the odds. The judges felt Marzia's background and story was inspiring.

Before coming to this country in 2008 at the age of 43,Marzia was a judge in Afghanistan and passionate about women's rights.

She was targeted by the Taliban for setting up a foundation for educating girls.

They tried to kill her in a high-speed hit-and-run incident as she visited her sick mother in hospital and she spent six months in hospital recovering.

As well as studying English in college, she works for Labour Parliamentary candidate Debbie Abrahams.

Marzia (51) said: "I would like to say a heartfelt thank you to the Fusion Awards and everyone for honouring me with the Woman of the Year award.

"I just wanted to say a huge big thank you to to my mother who is no longer with me but is the greatest inspiration in my life.

"I would also like to say thank you to all my amazing family and friends including those in Afghanistan.

"I must also say thank you to all the amazing strong women in Oldham, especially my dear friend Debbie Abrahams, for all the great work they do.

"I would like to thank all those who nominated me and have supported me over the years, you are all great blessings in my life.

"I cannot explain in words how tough my life has been, and I have faced many challenges, but it has made me very strong. I hope I can continue to support people.

"I am an Oldhamer and Oldham is my home, and I dedicate this award to Oldham and Afghanistan, my family, my friends and all the people in the world who are making a difference.

"I hope we can all make a difference in our lives, in the community and in the world."