Under fire free school to close
Reporter: Karen Doherty
Date published: 30 June 2017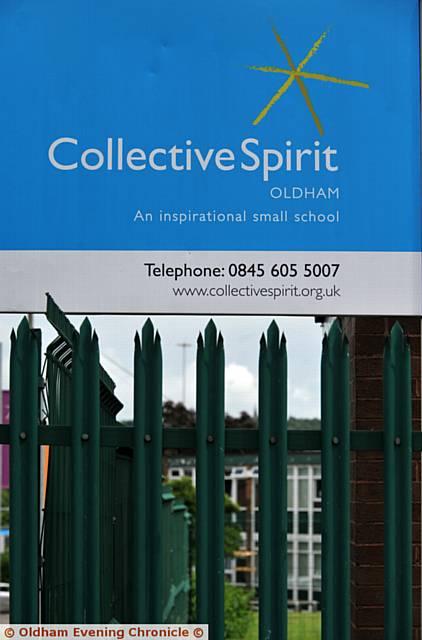 SET to close . . . Collective Spirit school in Chadderton
A CONTROVERSIAL free school which was slammed by education inspectors for failing pupils with appalling standards is to close.

Collective Spirit in Chadderton will shut on July 21, a week before pupils were due to break-up for the summer holidays.

Staff and parents were told yesterday afternoon. Oldham Council is working to find new school places for next year for around 200 children who attend the Butterworth Lane secondary.

Collective Spirit's board of trustees was disbanded in May following highly critical Ofsted reports.

A new leadership team was brought in to look at its options. Oasis Academy Oldham in Hollins provided leadership and management support.

Martin Shevill, chairman of the new trust board, admitted: "In the last couple of months we have spent significant time in the school reviewing every aspect of how the school operates and is run.

"Addressing these problems would have taken some considerable time, and it would not have been right or fair to continue to accept children into the school when we could not guarantee them appropriate educational opportunities. Closing Collective Spirit became the only option we could realistically consider.

"With the end of the academic year drawing nearer, we felt it was right that we make a decision as quickly as possible so that the education of Collective Spirit's students could start uninterrupted in September."

Collective Spirit was opened in 2013 by Raja Miah, who was awarded the MBE for his work in the wake of the Oldham riots.

But it has been dogged by controversy since it was proposed and was opposed by Oldham Council which was forced to hand over prime development land for the school.

Last year, Collective Spirit was placed in special measures after an Ofsted inspection found every aspect of the school to be inadequate. It was described by local MP Jim McMahon as the worst he had ever seen and he also raised concerns about the school's financial management.

Inspectors who went back in November said not enough improvement had been made and even found that pupils were going hungry because the school dinners were inedible.

Scores of concerned parents pulled out their children and a whistle-blower told the Chronicle of shocking conditions, including staff quitting part-way through lessons, appalling behaviour, urine thrown over a girl and a craze of pupils slashing their arms with scalpels.

Mr McMahon, MP for Oldham West and Royton, said: "No-one will be celebrating the closure of a school and the disruption it will cause to the pupils who attend. But the longer the school stumbled along the more children were being denied a good education. This situation couldn't be allowed to continue.

"I first raised complaints about performance and standards at the school following concerns from parents and whistle-blowers. Some of the concerns raised about safeguarding, leadership and financial management could not be ignored.

"A great deal of public money has been spent on this failed free school, which central government imposed on the town. The Government had a responsibility to get it right, however along with the leadership and governing body they failed.

"Serious questions remain about the use of public money and I hope the National Audit Office look seriously into the concerns I raised with them in February this year. Even though the school has closed the public have a right to know if money was used appropriately.

"My immediate priority will be to secure the future education of the young people who so far have been badly let down, and to ensure the vacated school site doesn't become a magnet for vandalism and other anti-social behaviour.

"I will also be pressing to ensure that children at Whitegate End Primary School have use of the playing fields in line with the original agreement."

Collective Spirit is the second failed free school in Oldham which is to close this year, sharing the fate of The GM University Technical College.

A joint statement from the NUT, ATL and NASUWT teaching unions said: "Collective Spirit has been beset by problems since its opening and any improvement to its pupils' entitlement is to be welcomed.

"It is a shame that this has to involve the closure of a school, but this has happened to a number of free schools across the country and is a damning indictment of the whole free schools system. We wish its pupils well in their new schools."

Staff are being offered support and discussions will take place in the next few months about the future of the school building and land.

Councillor Amanda Chadderton, Oldham Council's Cabinet member for education and early years, said: "The closure of Collective Spirit is the right decision.

"This free school does not provide our young people with the education and opportunities they deserve. And with problems at the school being so severe and deep-rooted, the only way forward is to close it.

"Parents of pupils who attend Collective Spirit are being contacted immediately so we can start the process of allocating them a place at a different school.

"We are working with the Department for Education and Oasis Academy to minimise any disruption in education to the young people affected."

A Department for Education spokesman said: "Following a request from the Collective Spirit Trust, we have agreed to the closure of Collective Spirit Free School.

"Underperformance at any school is unacceptable and one of the many strengths of the free schools programme is that we can identify and intervene quickly. This is not a decision we have taken lightly and our priority is ensuring children's education is not disrupted. We are working with the trust, the local authority and other local schools to identify places for pupils nearby, and to ensure the transition is as smooth as possible."

A Year 10 pupil who contacted the Chronicle yesterday said he wanted the school to remain open.

"They are forcing us to move, they are not giving us a choice ­- I have GCSEs in nine months and I don't want to move. I am used to the small classes which we were promised."