Ex-college site set for Year 7 pupils
Reporter: Lucy Kenderdine
Date published: 12 July 2017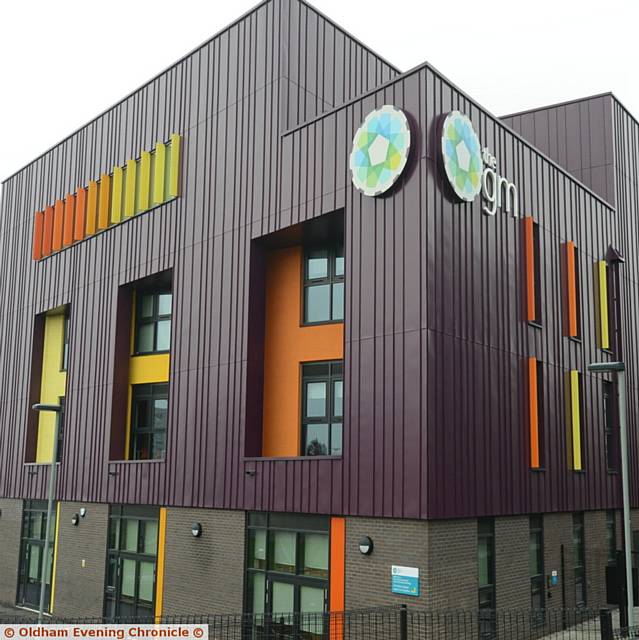 THE former GM University Technical College
THE former Greater Manchester University Technical College (GM UTC) building in Oldham is set to be used for pupils who do not have a Year 7 school place secured from September, it has been announced.

As announced earlier this year, the GM UTC is set to close on August 31 just three years after it first opened after not a single pupil managed at least a C in both English and maths in last summer's GCSEs.

Since the announcement, local education providers and Oldham Council have been examining potential uses for the state of the art £9million building on Middleton Road.

Partners and the Department for Education have now agreed that the site will provide education facilities for students who do not have a Year 7 place for September in the borough.

Oasis Academy Oldham have been asked to run and manage a school on the site for a period of three years while other new schools are developed.

In October, Oldham Council announced a need to create an additional 700 secondary school places by 2021, with planned expansions at Crompton House, Oldham Academy North and Oasis Academy Oldham given the go-ahead.

The need for more secondary school places follows rising birth rates, new housing developments and more families moving to the borough alongside the recently announced closures of Collective Spirit Free School and the GM UTC.

As part of the agreement Oldham College will also deliver engineering and science courses for post 16 students from the site from 2018.

A long-term solution for the site will be decided in due course.

Councillor Amanda Chadderton, Cabinet Member for Education and Early Years, said: "While the UTC project faced its challenges, there is no doubt that this £9 million state of the art building has a great deal of potential and opportunity, so it would be wrong for us all not to consider how we can best make use of this facility.

"This issue has become particularly important following the recent closure of Collective Spirit which adds to the pressure on Year 7 places, not just in September, but also in future years."

It follows news that multi-academy Trust Oasis Community Learning, who run Oasis Academy Oldham and Oasis Academy Limeside, have been successful in their application to create a new free school in the borough.

At Monday's cabinet meeting it was announced that the Council would prefer the new free school, which would accommodate 1,500 pupils when full, to be built at the former Breeze Hill School site.

Alun Francis, Principal and Chief Executive of Oldham College, said: "Our preferred solution is for this building in the long term to be used for the purpose it was intended, which is to support engineering, education and training in Oldham.

"However, we believe this is an excellent local solution which balances the needs of secondary and post 16 education in a way which helps everybody."

UTCs were promoted by the Government as a new type of school for 14 to 18-year-olds, providing innovative, high quality education combining technical, practical and academic learning.

The GM UTC opened in 2014 in a new £9 million building in Middleton Road on land owned by Oldham College. However last year not a single pupil there achieved at least a C grade in both GCSE English and maths.

When it was announced in February that it was to close this August, it had just 90 pupils - dramatically short of its 600 capacity - and was not financially viable.