Studio raid rocks band
Reporter: Karen Doherty
Date published: 30 August 2017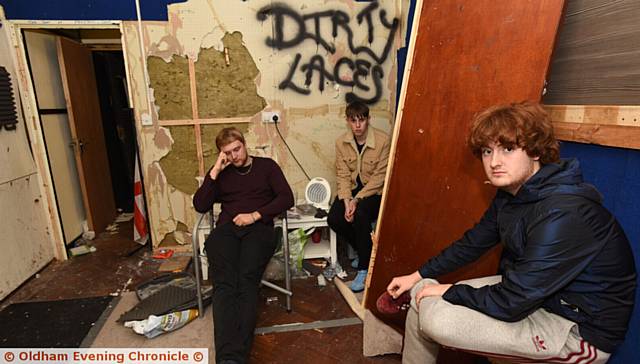 GUTTED . . . Luke Dec, Tom Edwards and Jacob Simpson, of the band Dirty Laces, in their now empty studio
At least £41,000 worth of equipment was stolen during a devastating raid at a recording studio in Chadderton.

Owner Iain Clarke believes Black Valve studio at Stockfield Mill, Melbourne Street, was deliberately targeted by a gang who knew what they were after.

They smashed doors and locks, leaving a trail of destruction. Iain, who built the studio, had at least £35,000 worth of equipment stolen. In addition, members of young Oldham indie outfit Dirty Laces who rehearse there are heartbroken after losing guitars, amplifiers and other equipment worth around £6,000 ­- just days after their first gig.

Gear belonging to self-employed engineers who work at the studio was also taken. Iain (20), from Mossley, who has played in local bands himself, was inspired to set up his own studio after building one while working as a joiner.

The burglary is thought to have happened between 2 and 7am on Monday.

He said: "The officer said they came tooled up. They knew what they were after.

"I don't know what else I could have done ­- the place was bolted up. There's at least four locks on the front door and every other door inside the building has a lock.

"All of them have been ground off, drilled or smashed to bits. Where the door hasn't shifted, they've ripped the frame from the wall.

"They knew what tools they would need. Obviously someone told them what was here ­- it's going to be hard for them to shift the stuff and 95 per cent of it is bespoke and very recognisable.

"I stayed here on Monday night because I was so scared they would come back for everything else."

He said the mill owner's CCTV hadn't been recording.

"I'm pretty deflated," he added.

"I'm going to have to shut because I don't have a studio anymore ­- all my equipment has been stolen. Whether I get things back through the insurance or not, I no longer have a business."

Dirty Laces have vowed to carry on. The five-piece, whose members are from Moorside, Chadderton, Failsworth and Dukinfield, have only been together since January and played at Gulliver's in Manchester's Northern Quarter on August 18.

Rhythm guitarist Jacob Simpson (20) said: "Practically everything has gone ­- it's heartbreaking.

"We are all young lads and we played our first gig in Manchester which went really well. We put the money from that towards a new PA system and half of that was stolen."

Iain said people who left equipment at the studio had to insure it themselves and the lads are waiting to see if they are covered by home insurance.

Jacob, a plumber, doesn't think he will be, but added: "We are pretty sure nothing is going to stop the band and we are going to get some more equipment.

"One of the things that's pretty gutting is we can't rehearse there anymore because it is closing."

The Chronicle was unable to contact the mill owner.