Recycling firm is in breach of rules
Reporter: Richard Hooton
Date published: 31 August 2017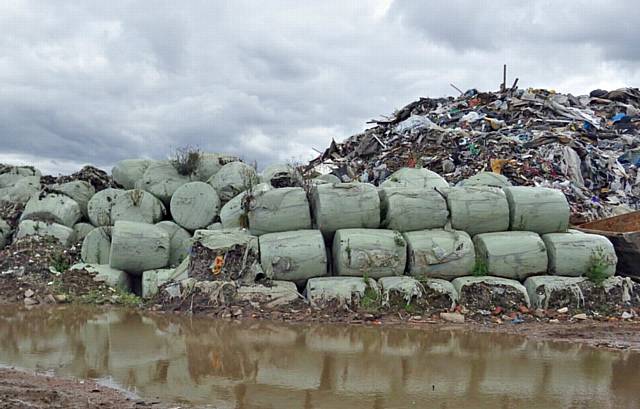 WASTE at Mossdown Road, Royton
A RECYCLING firm has been told it has 14 weeks to remove all waste from its Oldham site after having its environmental permit revoked.

The Environment Agency says it is pleased with the planning inspector's ruling to uphold the decision over Northern Recycling and Waste Ltd of Mossdown Road, Royton.

The company had its permit revoked by the Environment Agency in January, but appealed against the decision. However, the appeal has been dismissed and it has 14 weeks to remove all waste.

Northern Recycling initially had an environmental permit to process municipal waste, construction and demolition waste, end-of-life vehicles, metals, tyres and discarded equipment on site.

But the agency said the company then started to store waste outside of the permitted area. The agency stated it repeatedly offered advice and guidance to the company as the land being used outside the permitted site was open ground and any leachate from the waste had the potential to pollute ground waters and the adjacent river.

An Enforcement Notice was issued and then a Suspension Notice in August last year.

Tracey Rimmer, the agency's area environment manager, said: "Permit conditions are in place to reduce the risk of pollution and to protect the environment and people's health.

"We work with operators to bring waste sites back into compliance which has been the case with this company, but we have had to come down firmly as they continued to breach their permit.

Action

"We will work with and advise companies as much as possible, but we will not hesitate to take decisive action against anyone who persistently breaches permit conditions.

"We hope this action sends a clear message to all operators that we will, where appropriate, revoke Environmental Permits."

The agency said there had been a history of the company being non-compliant with its permit conditions. Between January 2014 and February 2017 nearly 30 Compliance Assessment forms were issued by the agency. While the operator of the site took some action to address specific issues on the forms, overall non-compliance with permit conditions remained throughout the time.

The planning inspector found the company had persistently failed to comply with the conditions of the permit.

The inspector concluded that the company had not demonstrated it was competent to operate the facility, and that the Revocation Notice was reasonable and proportionate to prevent harm to the environment.

l The Chronicle recently reported that plans for a £100million state-of-the-art plant to generate energy from waste, have been submitted to Oldham Council.

Applicants Woodhouse Properties, seek outline permission to develop the Mossdown Road site into a waste energy plant.

If the outline application is approved, landowner Connells would then seek to sell the site to an operator, who would submit a further detailed application.