Treats are reward for an absolute treasure
Reporter: Marina Berry
Date published: 18 September 2008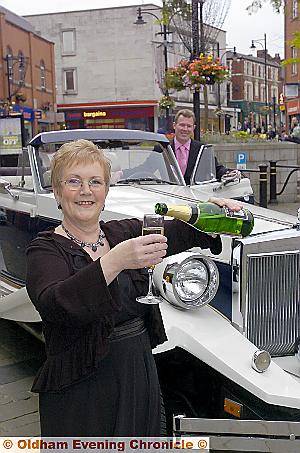 Carole England gets the champagne treatment.
A WOMAN who spends her life caring for others became a guest of honour yesterday.

Auxiliary nurse Carole England has been heralded as the greatest unsung heroine at Dr Kershaw's Hospice, Royton, and businesses banded together to give her a day to remember.

Carole's pampering started when a chauffeur-driven car collected her from her home in Pierce Street, Watersheddings.

She had her hair styled at The Edge in Lees, before Debenhams personal shopper Pauline Trevor helped her choose an outfit.

And Carole had a makeover from Clarins, and received a bouquet of flowers from Occasions in George Street, Oldham.

Shocked

Then she travelled in style, courtesy of Lady Jayne Limousines of Royton, to the Old Original, Scouthead, where she enjoyed a meal, complete with wine, with a former hospice colleague, retired auxiliary nurse Susan Hecker.

It is the second time the 60-year-old mother-of-two, who has five grandchildren, has been recognised for outstanding dedication to duty.

The first occasion was six years ago as part of Pennine Acute Trust's golden jubilee celebrations.

Carole said of her second win: "I'm overwhelmed. There are lots of other people who work just as hard as I do, and I am quite shocked but really pleased.

"I love the job. I didn't expect people to think of me like they do, and I would live to thank everyone who nominated me."

The idea was that of staunch hospice supporters Jill Moore and Gill Bussey, who thought it would be fun to let staff and patients of the hospice nominate a special person for a special treat.

Jill said: "Gill and I find Carole an absolute treasure. We feel that hospice staff in general are unsung heroes, always welcoming, putting people at their ease, and ready to help in any way they can.

"They do an unbelievably difficult job with patience and compassion. They are all winners in our eyes.

"Carole is absolutely brilliant. She is always there if ever you need anything doing.

"She is always willing to go that extra mile for people, whether it's shopping, looking after pets, collecting raffle prizes or selling tickets."

Carole joined the hospice full-time 15 years ago, and is affectionately known as matron number two.

The hospice has 40 members of staff, and Carole scooped more than half of the 29 nominations, with 16 people naming her as the person who most deserved to be spoiled.

Housekeeper Christine Squabbs and appeals office assistant Cheryl Sefton were runners up, and each received a bouquet of flowers and a facial makeover.