'No grounds to back up false statements'
Reporter: BEATRIZ AYALA
Date published: 17 September 2010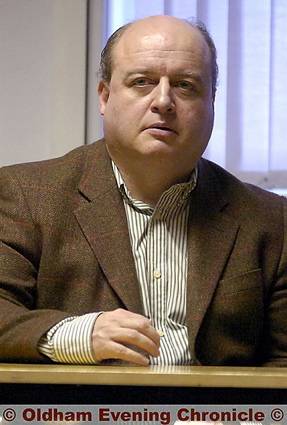 Elwyn Watkins
ELECTION COURT Day Four
QC defends claims as political

OLDHAM MP Phil Woolas made "devastating" and "far-reaching" false statements about his political opponent Elwyn Watkins, a historic court sitting in Uppermill heard.

On the closing day of a four-day petition trial, prosecutor Helen Mountfield QC said neither Mr Woolas nor his agent Joe Fitzpatrick checked any of the false facts they published about Mr Watkins and did not care about what they said about him.

She said: "They had no reasonable ground to support the allegations they made."

But Gavin Miller QC, defending Mr Woolas, said the statements published were political statements and not personal ones which had nothing to do with Mr Watkins's personal character or conduct.

As such, they could not come under section 106 of the the Representation of the People Act, which prohibits making false statements of fact in relation to the personal character or conduct of a candidate for the purpose of affecting the result.

The specially-convened election court — the first case of its kind for nearly 100 years — was established after defeated Liberal Democrat candidate Mr Watkins challenged Mr Woolas's re-election as Oldham East and Saddleworth MP, claiming the vote was swayed by Labour leaflets containing false statements.

If High Court judges Mr Justice Griffith Williams and Mr Justice Nigel Teare agree with his petition it could see Mr Woolas debarred for three years and a by-election held.

A pamphlet called The Rose, and an eight-page newspaper, The Examiner, published by Mr Woolas and Mr Fitzpatrick, are at the centre of the case.

Miss Mountfield said five false statements had been made — that Mr Watkins had falsely broken his promise to move to the constituency, false statements in the Examiner associated with election expenses, a similar allegation in The Rose linked with payment from a Saudi Sheikh and two electoral offences.

She alleged that part of their gameplan was to create a genuine and immediate threat of violence among ordinary readers of militant extremists or "mad Muslims" as described by Mr Fitzpatrick.

She alleged they then set up a false story about Mr Watkins based on a series of deliberate deceptions and misrepresentations.

She said: "There was an astonishing lack of research about the allegations."

She described Mr Woolas, Mr Fitzpatrick and Stephen Green, communications lead for Mr Woolas, as a "bunch of sophisticated media operators."

As a result, the ordinary voters of Oldham East and Saddleworth would hear messages that they were being used and that Mr Watkins had lots of illegal money from an Arab Sheikh.

Miss Mountford said voters would hear that Mr Watkins was in league with dangerous violent Muslims and if they voted for Watkins, he would help them.

She said: "They are false statements. They weren't true and Mr Woolas knew they weren't true."

She added: "He knew what the law was, and nobody is above the law."

Defending, Mr Miller QC said there had been tough political attacks on politicians for many years, such as those connected to the troubles in Northern Ireland, but they did not attack personal conduct.

He said: "It may be a strong attack, it may be offensive for the person receiving it but that does not make it personal.

"If you are a politician you associate with all sorts of people and win support from all sorts of people.

"Opponents have to be free to attack you in that way."

He said Mr Fitzpatrick's description of the Muslim Public Affairs Committee (MPAC) as extremists was "his own colourfully described opinion".

And Mr Miller said allegations that Mr Watkins had attempted to "woo voters" was a classic statement of opinion.

He said: "It may appear as an inference of fact, but it is still an opinion."

Mr Miller said statements citing Mr Watkins campaign costs as £200,000 in The Examiner were statements of opinion and a value judgement.

And he said an article about Mr Watkins declaration of campaign donations was innuendo and did not state anything about criminal offences.

Mr Miller reminded judges they had to be satisfied that there was a "pressing social need" to disqualify Mr Woolas as an MP.



QC denial over 'extremism'

GAVIN Miller denied the word "extremists" in an article featured in The Examiner related to Muslim extremists who advocated violence.

Justice Nigel Teare put it to him that the article describing Mr Watkins seeking to woo the extremist vote, plus accompanying photo, would lead the ordinary reader to conclude just that.

However, Mr Miller denied that and said it referred to pro-Palestinian voters attracted to that political persuasion.

Judges to return for verdict

THE High Court judges will travel back to Uppermill to deliver their verdict, which is expected in mid-October

Justice Griffith Williams and Justice Nigel Teare have spent four days at Uppermill Civic Hall hearing the case.

As an election court has not been held for 100 years, it was not known whether the final verdict would be heard in Saddleworth or London.

Justice Teare told the court yesterday: "We intend to return here to deliver judgement, that seems to be the appropriate course under the act. We have to reserve judgement, there is much to consider but we will do so as soon as we can."