We'd like to teach the world to sign!
Reporter: Helen Korn
Date published: 11 February 2011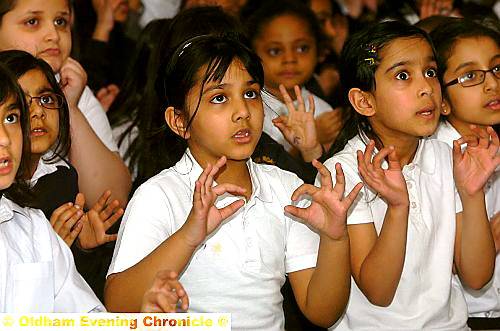 SIGNING and singing, pupils hope they are record-breakers
CHADDERTON pupils are eagerly waiting to see if they are record-breakers.

Stanley Road Community School took part in a national record-breaking attempt to have the most children using sign language while singing I'd Like to Teach the World to Sing.

It was all part of a project called Sign2Sing which raises awareness for the charity SignHealth.

The children sang for five minutes, simultaneously with other schools across the country.

Rachel Tracey, deputy head, said: "It went really well and the children were really enthusiastic about taking part.

"We are a hearing resource provision in Oldham so we have a number of deaf children in school. All the children learn sign language as part of the curriculum."

The school has sent off its paperwork to the official judges who will decide whether the school has helped break the current record which had 13,418 children singing and signing at the same time.

This year 100,212 children have taken part nationwide.