Revenge of the lawnmower man
Reporter: ANDREW RUDKIN
Date published: 05 August 2011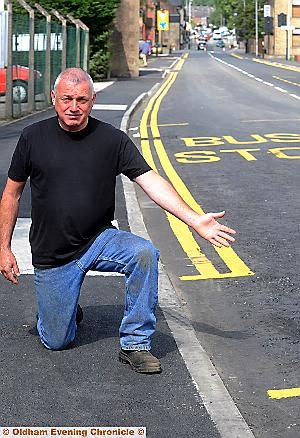 End of the line: David Marsh says his protest means the double yellow lines don't reach the end of the road
A BUSINESS owner has been left doubly angry after more road chaos in Shaw.

David Marsh followed in the footsteps of fellow Beal Lane trader Jay Fletcher by halting resurfacing work with his vehicle.

The Kenmow Lawnmowers owner claims he stopped a Oldham Council employee from painting double yellow lines outside his business — which has always been used for loading and unloading.

David (53), of Shaw, said: "The worker said he was contracted by the council to put double yellow lines all the way down Beal Lane, which would have included outside my business.

"This is my peak period and people can't come to me, because the road is closed.

My business is really suffering. I'm just getting no trade.

"So I said I was not moving and no more lines were painted."

A fortnight ago Ms Fletcher, a beauty therapist parked her sports car on the road in protest to on-going Metrolink work — with claims her business is "barely surviving".

Oldham Council, which carried out the resurfacing work on Beal Lane stated: "The council was replacing the yellow lines that were there before the resurfacing work."

However an end to the road problems is in sight for the Shaw businesses after Transport for Greater Manchester revealed that Beal Lane is now expected to reopen in mid-August.

But this is double the amount of time expected for the completion of laying tram tracks across the former railway level crossing because more extensive highways work has been needed.