Menace of the bus sex attackers
Reporter: by BEATRIZ AYALA
Date published: 11 November 2011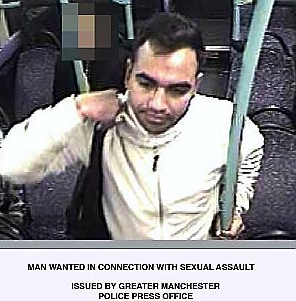 Picture issued by Greater Manchester Police.
BUS passengers are being urged to be vigilant after police launched a hunt for three different men who all sexually assaulted women on buses in Oldham.

Three different women reported being sexually assaulted during a 10-week period from August 25 to November 2.

The first incident occurred at 2pm on August 25 on the number 83 bus from Manchester to Oldham.

The offender was sat behind the woman on the upper deck and sexually touched her.

Skinny

After he was confronted, he got off the bus on Oldham Road in Failsworth.

He is described as Asian, in his mid-40s, of a skinny build, 5ft 9in tall and with a long face.

He was wearing circular rimmed glasses, had a long nose, short black hair and wore a black jacket and black jeans.

The second incident happened at about 4.40pm on October 23 when a woman got off the 409 bus from Oldham to Rochdale at the Oozewood Road bus stop, and was sexually touched by a man who had been a fellow passenger.

He is described as Asian with a pale complexion, in his mid 20s, of a skinny build, and 5ft 10in tall.

He had cropped black hair combed forward and wore a waist-length cream jacket and dark jeans.

The third incident happened at 6.30pm on November 2 when a woman was travelling on the 83 bus from Oldham to Manchester with the offender.

Both got off in Manchester Street when he approached her, sexually assaulted her and ran off.

The offender is described as Asian, with a round face, in his 30s and had a monobrow.

He was between 5ft 6in to 5ft 8in tall and wore a cream or beige fleece-style jacket and was carrying two shoulder bags.

CCTV stills of each man have now released and police are urging anyone with information or who recognises the men to come forward.

PC Edmund Taylor, from the Sexual Offences Unit in Oldham, said: "What we are investigating is three different offenders and three different women who have all been sexually assaulted by touching over a 10-week period.

"On each occasion, the offence has either taken place on a bus or when the offender had got off and followed his victim.

"These are very serious incidents and have clearly caused each woman a great deal of distress.

"That is why we have circulated images of the men we want to speak to and I would appeal to anyone who recognises these men to come forward."

Be aware

PC Taylor stressed there was nothing to suggest the offences were linked, or that the offenders knew each other.

But he urged bus passengers, especially women, to be aware of other travellers and move seats or inform the driver if they felt uncomfortable.

He said: "The majority of buses these days are fitted with CCTV cameras and we work very closely with bus operators to identify these sort of offenders.

"If anyone thinks they can get away with touching someone on a bus they need to think again."

Anyone with information should call 0161 872 5050 or the independent charity Crimestoppers on 0800 555 111.