MP grounded in funeral dash
Reporter: ERIN HEYWOOD
Date published: 06 September 2012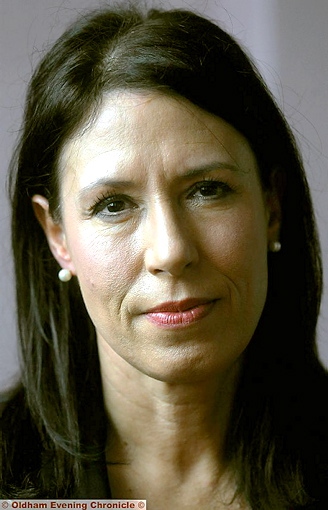 APPALLED: MP Debbie Abrahams had to delay her mother's funeral after airline blunders left her United Airlines flight on the Tarmac
Debbie rages over US flight nightmare
FURIOUS Oldham East and Saddleworth MP Debbie Abrahams has blasted an airline after a staff blunder led to a 23-hour flight delay and a desperate bid to put back her own mother's funeral.

When a United Airlines worker accidentally deployed an emergency slide shortly before the flight to America was due to leave, passengers were stranded at Manchester Airport.

The Labour MP says she was left angry and in emotional turmoil by the poor service that then made the error worse.

Mrs Abrahams had been due to leave Manchester at noon on Tuesday, Passengers waiting to board saw the slide, normally only used after a crash landing.

"They had to send off for a new part — and said we'd be departing at 10.30pm."

But engine problems then caused an even bigger problem: "We were still on the runway at midnight. They said they were going to fix it while we were on the runway but at 12.45am announced the flight had been cancelled."

Debbie was disgusted with the treatment passengers received during their long wait.

She added: "All we were given was a voucher for a snack for lunch and at tea. Whenever we asked for help the staff would get very defensive. Nobody was allowed to leave the airport or access their luggage,"

The MP was left with the funeral looming and no idea how she was going to make the 4,000-mile journey. Her mother, Angela Morgan-Cenname (74), died on Monday.

She went on: "I had people all around me asking what to do. Ssome didn't have phones to contact relatives, but the staff wouldn't help us. They just didn't want to know. They didn't care that I might miss my mum's funeral."

Debbie made a desperate call to her brother in America, to ask him to delay the funeral.

She eventually managed to book a new flight and left the UK at 11am yesterday. The rearranged funeral takes place today.

She added: "United Airlines' customer service was appalling. This is an incredibly difficult time for me and this has just made it even worse."

United Airlines did not respond to a request to comment.
Our web site carries selected and edited versions of stories available in full only in our nightly print and eChron editions.
Follow us on Twitter - @OldhamChronicle