Coliseum's new home comes a big step closer
Reporter: HELEN KORN
Date published: 22 January 2013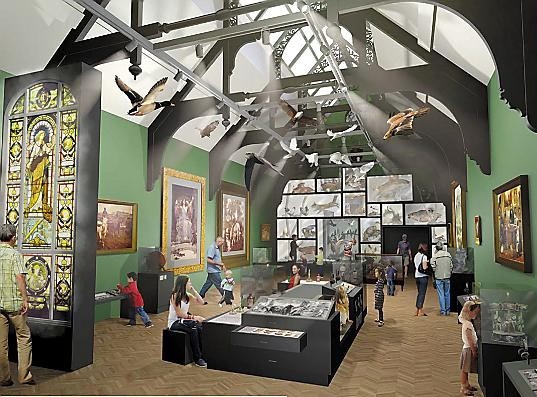 A vision of the new heritage centre: this would share the old library with the Coliseum's admin and rehearsal spaces - securing the grand building's future
OLDHAM Coliseum is set to win a massive £9 million towards a grand new home.

With Oldham Council, the theatre has been given an initial £465,000 by Arts Council England to develop detailed architectural plans over the next 18 months — which will allow it to make a second-stage application for another £4.4million towards the project.

In November the Chronicle announced the theatre's new venue would be based alongside a new Oldham Heritage Centre, which has already received £615,000 towards a total of £3.9 million from the Heritage Lottery Fund.

The new development — next to the old library and alongside the new town centre Metrolink line on Union Street, would also house Oldham Theatre Workshop and anglo-asian company, Peshkar.

Coliseum executive director David Martin says he is confident the plans for a 600-seater theatre can be completed in time.

He said: "This is our chance to get some detailed drawings together, as well as a business plan that shows this new entity is not a lame dog and we mean business.

"We will be working through all the figures with a fine-tooth comb. We don't want to be in a situation where we have a new building we can't afford to run. We wouldn't be allowed to do that with public money. It will be a lot of hard work but we can, and will, do it."

Oldham Council leader Jim McMahon said: "The theatre is hugely important to our community — a major cultural asset which also delivers hugely important educational work right across our borough.

"We must invest in our existing assets and a flourishing Coliseum is an essential part of our wider regeneration vision for our town centre."

Building works will still be a decade away — which is why the recent £1.5 refurbishment of the current Fairbottom Street venue went ahead. Not to have spent the money would have meant closure of the theatre and likely loss of the major local asset

The refurbishment couldn't enlarge the building to allow efficient use for the large amount of work the Coliseum company now undertakes.

Chief executive Kevin Shaw said refurbishment was essential regardless of whether they would eventually move out: "In the last 10 years there have been two other very serious bids to move the Coliseum to new locations, neither of which has come to fruition. We had to make a decision about Fairbottom Street to secure the company's future," he said.

Oldham Coliseum attracts about 100,000 visitors a year and its audiences bring the town around £17.5 million in overall spending.