MP backs foodbank appeal
Date published: 05 March 2013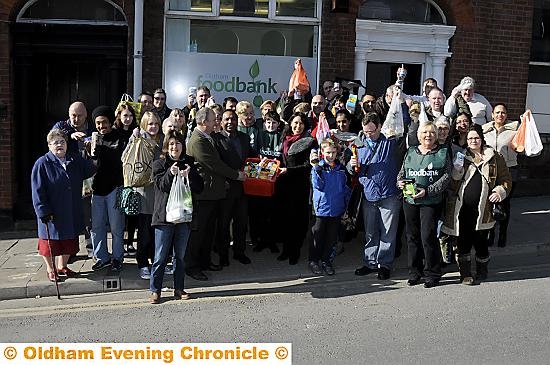 Debbie Abrahams MP and councillors and friends at the Foodbank in Clegg Street, Oldham
OLDHAM East and Saddleworth MP Debbie Abrahams dropped into Oldham Foodbank to show her support for the volunteers who carry out vital work in the community.

Labour MP Mrs Abrahams met co-ordinator Andrew Barr who gave her a tour of the premises in Greaves Street and explained what goes on behind the scenes.

She said: "Andrew and his team are doing great work for many Oldhamers who are struggling through hard times. With 13 million people below the poverty line in the UK I would ask everyone who can to keep donating non-perishable food, or their time, whenever they can."

Andrew added: "We are distributing food now to over 90 people each week and this is increasing. But what we are short of at the moment is fruit juice, tinned rice pudding and 1lb bags of sugar."

Call the foodbank on 0161-622 1061, visit www.oldham .foodbank.org.uk or email info@oldham.foodbank.org.uk.