9-hour wait for hospital ambulance home
Reporter: Gillian Potts
Date published: 05 March 2013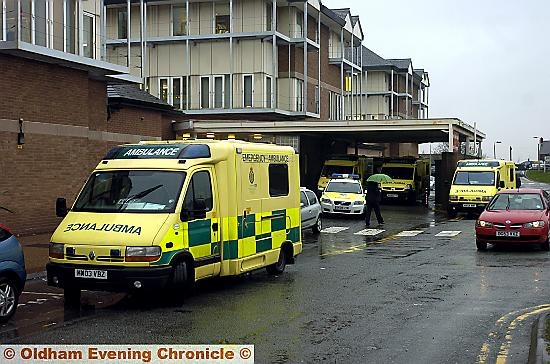 Ambulances arrive at the Royal Oldham Hospital.
ELDERLY patients were left waiting more than nine hours for ambulances to take them home from the Royal Oldham Hospital.

They include an elderly blind woman whose disgusted family have called on health chiefs to ensure the "manic" situation doesn't happen again.

Jessie Hulstone (86) went to A&E at 9.30am, on Friday, and was treated for a severe water infection before being sent to the discharge lounge at lunchtime to wait for an ambulance — which didn't arrive for nearly nine hours.

Her daughter Mary Slicker says her arthritic mum — who had to sit in a chair as there were no spare beds — didn't get home until 9.30pm as there were none available.

And, to make matters worse, she had to be readmitted to hospital the next day as she was suffering from dehydration.

Mary said they were told all the ambulance drivers had phoned in sick and they had to wait for a private firm to come on duty with her mum's ambulance reportedly coming from Birmingham.

She said there were at least 11 other people waiting all day including one elderly patient on oxygen who'd been waiting since 6.30am.

"A&E were brilliant but it was horrendous in the discharge lounge because it was so busy," said Mary.

"I just can't get my head around what we went through, it was completely manic."

A spokesperson for the North West Ambulance Service said" "We apologise for any distress caused during this patient's wait for transport home, and encourage the patient or their family to contact us should they wish to discuss this further.

"The Patient Transport Service operates on a pre-planned basis; so that all journeys undertaken on a single day, are planned the day before. Therefore, all 'on-the-day' bookings are additional journeys which must be added to the schedule for that day. Unfortunately, on Friday, the Service did experience a high demand for patient transport journeys which may have resulted in longer waits for vehicle availability."
To read a full version of this story buy tonight's Chronicle or subscribe to a digital eChron and iChron edition.