Home comfort for centre
Date published: 25 October 2013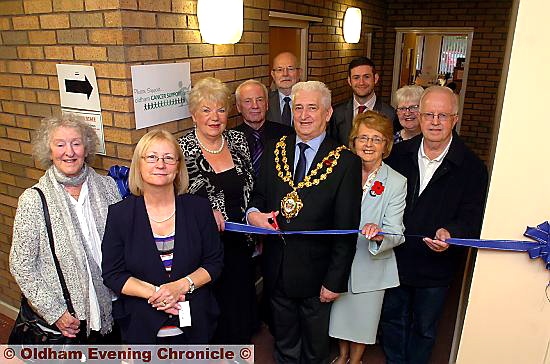 THE Mayor opens the new centre
OLDHAM Cancer Support Centre has celebrated moving to a new base with news that a mystery supporter has pledged £20,000 to pay its first two years' rent.

The group, which now operates from the Ena Hughes Centre in Failsworth, received the windfall from the anonymous well-wisher after spiralling costs forced it out of Failsworth Primary Care Resource Centre.

Support centre chairman Beryl Vale said of the mystery man: "We are delighted to have the security of knowing we have two years' rent-free. We can invest the spare money into continually improving the care we provide to patients and their families."

Oldham's Mayor Councillor John Hudson, officially cut the ribbon on the new centre this week.

The group offers advice, information and support from therapists, counsellors, monthly patients' groups and carers' groups.

The centre will be open 9am-3.30pm on Monday, Wednesday and Friday with later openings between 9am-6pm, Tuesdays and Thursdays.